Almi
Ultimate Lifting Solutions are proud to offer all products from the quality manufacturer Almi. Within the construction, landscapers, and block paving sector the Almi block cutter is world-renowned for its superb build quality and accurate clean cuts with precisely guided, square, reversible blades. The Almi AL33 D is the best-selling block cutter within the range that has been around since the 1970s and used to be supplied in ALMI yellow, nowadays it is supplied with an Electro-Galv finish. The range of ALMI block cutters has grown extensively, all available from ULS Lifting. if Almi block cutter spare parts are required such as the AL block Cutter Spare Blades or replacement wheels then see our ALMI Spare Parts page for further details.
Need help to choose a suitable block splitter? Essentially it is your choice for the best stone cutter is the type of stone you want to cut and the size of the stones. Contact ULS Lifting to discuss your requirements and concerns so we can look for the best block splitter for your application. We are happy to help you with this via phone or email.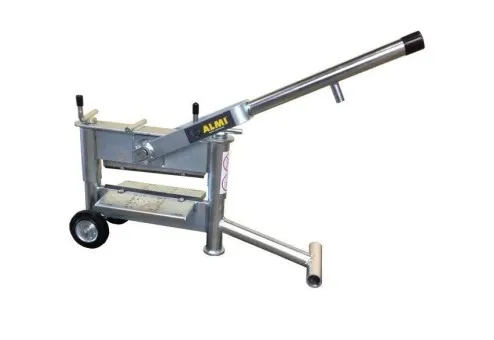 ALMI AL33D Block Splitter
AL33D
The ALMI AL33D Block Splitter is world-renowned as one of the best block cutters available. supplied with two four-sided blades that help to create clean and accurate cuts to all paving materials. Easy to operate once cutting height is set. Professionals around the world work with ALMI block Splitters, why don't you start today?

£552.00 ex VAT
£409.98 ex VAT
£491.98 inc VAT
ALMI was founded in 1946 – over the years they have expanded with new machines and advanced technology. Thanks to this development, we can now offer you the best production options for both large and small series.
The Almi range of block splitters dates back to the 1940s, and today range of block cutters stands for sustainable development, people, planet, and profit are harmoniously combined. Using the ALMI Block Cutter will give an emission-free working where the burden on the user is greatly reduced due to the increased cutting force.
Why use an Almi block cutter - At ALMI, every professional from the Infra, Garden & Park, Construction, and Prefab will find the ideal block splitter for his application. We offer various lines of block cutters suitable for, among other things, clinker bricks, Waaltjes, tiles, sand-lime bricks, curbs, granite, and natural stone.
The AL33 block splitter, the original since 1946, is equipped with spring-loaded support plates with ruler and degree distribution. The square blade of the AL33 can be used on four sides.
The most common block Cutter in the UK is the AL33D block splitter which is equipped with fixed support plates. The fixed support plates with ruler and graduation are attached to the frame, which allows the stone to be cut at an angle. The angled cut results in dense, accurate paving. The square blade of the AL33D can be used on four sides.
Why use a block Splitter?
The advantages of a block splitter - Using a block splitter offers many advantages over traditional stone splitting. Splitting stones is much more environmentally friendly than sawing because no fuel is needed. In addition, no fine dust is released, and splitting stones do not make any noise. As a result, there is virtually no nuisance from work for your employees and the environment.
Block splitters as a sustainable solution for hardscaping - The use of block splitters is a sustainable solution compared to stone saws. You do not use fuel for the block splitter; no water is required. In addition, no dust is released, and a block splitter does not make any noise. This means you can also work in busy places such as shopping centre without being a nuisance to the environment.
Benefits of block splitters on construction - The use of block splitters in construction offers many advantages. So, no water or electricity is needed. Also, no dust is released when splitting stones, and no noise is made as with sawing. This ensures more pleasant working conditions for your employees and less nuisance. Our larger block splitters are also equipped with a lifting eye so that you can easily move them around the construction site.
Splitting panel slips at high speed - Thanks to the pneumatic drive of our panel brick splitter, the splitter can achieve an extremely high cutting speed. The panel brick is split to the desired size in one second. You can benefit greatly from this in an automated production line. The work becomes even more efficient, and you save a lot of time and money. Our panel brick splitter offers many advantages over sawing panel bricks. For example, no fine dust is released when splitting panel bricks. In addition, you always work clean, tight, and dry. As a result, the panel bricks are immediately ready for use after splitting.
Landscaping - ALMI block splitters for landscaping applications are suitable for stone types often used in gardens. Think of (concrete) vowels, thick tiles, granite, natural stone, and concrete blocks. With our block splitters, you can cut these types of stone tightly so that you are always assured of a good result.

Hardscaping - Day in and day out, the road worker determines the streetscape. Hundreds of thousands of professionals all over the world work with ALMI block splitters. This sustainable and fast way of customizing bricks is ideal for pavers and the environment.
Construction - ALMI has also developed a special series of block splitters for the construction industry. These block splitters are suitable for cutting large concrete blocks, sand-lime brick blocks, and sand-lime brick elements.
Prefab - Brick slips are widely used in the prefab industry. ALMI has developed the brick slip cutter, especially for this application. This block splitter can be used like a traditional one or as part of an automated production line.