CMCO
There are no products to list.
ULS Lifting is proud to be a UK based Distributor for the full Columbus McKinnon range of brands and products, and please feel free to call us if you require technical or sales assistance of any of the key brands under the CMCO banner - Yale Products, Camlok Lifting Clamps, Stahl Crane Systems, Pfaff Silberblau, Duff Norton, CM Lodestar, Magnetek, and Steerman Load Moving Systems.
Why choose an electric hoist from the Columbus McKinnon? no other manufacturer of electric Chain hoists has a range as complete as CMCO Columbus McKinnon. whatever your application or requirements we at ULS Lifting are confident of providing a solution from the family of hoists available. Yale CPV F Electric Chain Hoist, CM Lodestar Electric Chain Hoist, Stahl ST Electric Chain Hoist, Stahl High-Speed Electric Chain Hoist, Yale CPE F Electric Chain Hoist, and the compact CPS Electric Chain Hoist.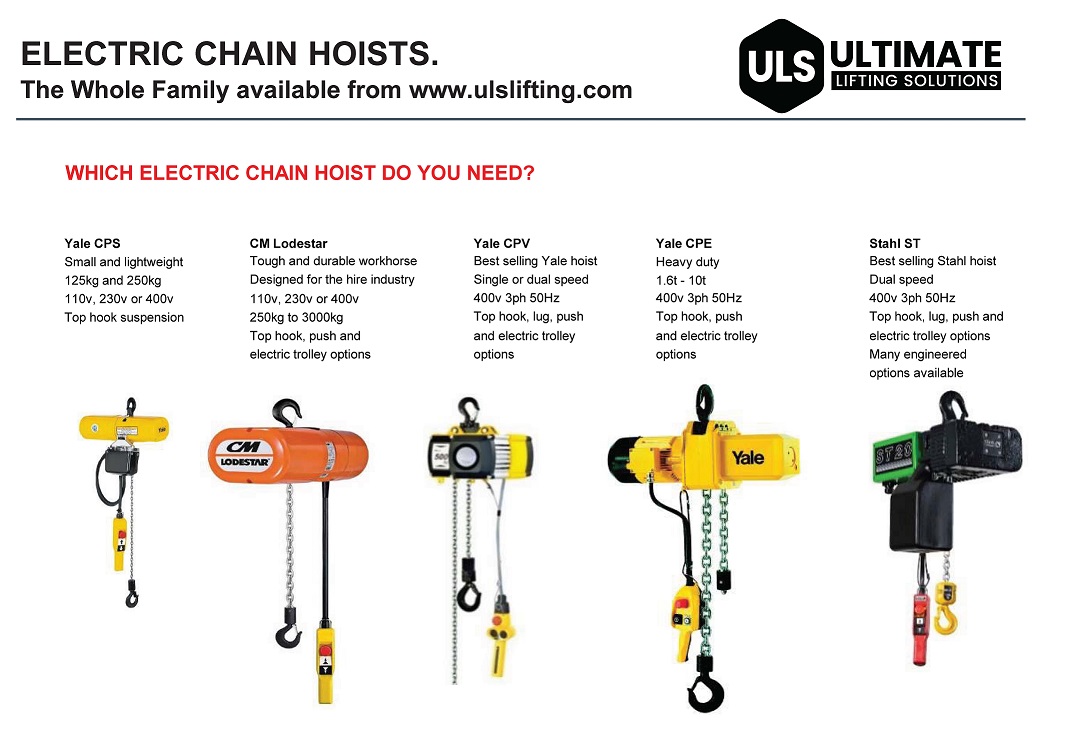 CALL TODAY for more information on the range of Electric Chain Hoists available from Ultimate Lifting Solutions Limited on 01384 986 026
Leading the Way in Intelligent Motion Solutions - For nearly 150 years, Columbus McKinnon products have been trusted to lift, position, convey, and secure our customers' assets. Learn how we are building on that foundation and transforming into the leading manufacturer of intelligent motion solutions that move the world forward and improve lives.
The COLUMBUS McKINNON, Industrial Products GmbH, is a global group of companies and brands in the field of material handling.

The range includes a wide selection of quality manual and electric hoists, crane systems, load handling equipment and weighing technology, Cable pullers, textile lifting equipment and lashing systems, material handling equipment, heavy load moving systems, and hydraulic tools sold under the Yale and Pfaff-Silber Blau brands.
The company is known for its market and quality-oriented business and product policy. Strong product brands and Europe's leading market position in manual standard hoists characterize the COLUMBUS McKINNON Industrial GmbH.
We supply a range of Columbus McKinnon brands, including:
CMCO MISSION & VISION
Our Mission
We provide expert, professional grade solutions and products, building customers' trust by solving their high-value problems.

Our Vision
To become the leading industrial technology company in safe and productive motion control.

Our Values
We are raising expectations by living the values through our daily behaviours. These values should be the foundation for everything we do and guide every aspect of how we work and do business with our customers, vendors and each other. We have five values that support both the mission and vision of Columbus McKinnon.