Crane & Hoist Spare Parts
Crane & Hoist Spare Parts
Ultimate Lifting Solutions Ltd is a premier supplier of spares for Electric Hoist and Cranes. All leading manufacturer spares available. Call our Spares team today on 01384 986 026. ULS can supply from top hoist and crane manufacturers such as Demag, Stahl, Liftket, Yale, Lodestar, Konecranes, GIS, Verlinde, Tractel and many many more.
Common spares such as replacement hoist pendants available from stock. We offer emergency Breakdown call out - If you need an engineer or due to breakdown of your overhead crane or overhead hoist - call us immediately 01384 986 026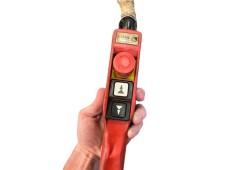 Stahl STH Pendant Control Station (2 Button)
STAHL 6102-009
Official Replacement Stahl STH 2 Button Corded Pendant Control Station (Dual Speed Lift / Lower Only) complete with 3m cable and 9-Pin Plug assembly for easy on site fitment.

£298.98 ex VAT
£358.78 inc VAT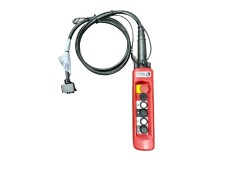 Stahl STH Pendant Control Station (4 Button)
STAHL STH 1202-021
Official Replacement Stahl STH Corded 4 button Pendant Control Station for both dual speed hoisting and dual speed cross travel motion, supplied complete with 3m cable and 9-Pin Plug assembly for easy on site fitment. Other lengths available

£469.98 ex VAT
£563.98 inc VAT