Ratchet Lashing
Welcome to the Ultimate Lifting Solutions section of Ratchet Lashing. Within this section you will find a large selection of ratchet straps in different widths, different lengths and different strengths which makes them idea for strapping down everything from a motor bike on trailers, securing fence panels or sheds to flat bed waggons and hay to farm lorries or load securing a pallet inside a van. Ratchet straps or tie down straps are a great alternative to lashing chains because they are less expensive, lighter and will not damage the load being tired down. At ULSLIFTING we offer both standard and nonstandard load straps. The most common size of ratchet strap is the 50mm wide ratchet strap which is supplied with a 5-tonne rating that gives a 2.5 tonne ratchet lashing. Ratchet straps are commonly used to secure a load or cargo before it is transported to its destination. Due to the soft material, Webbing Ratchet Load straps are great when being used on equipment that needs to be kept scratch free and clean, ratchet straps are great for securing cars to recovery vehicles, crates and pallets on the back or lorries or inside vans and are classed as a lorry drivers best friend as a ratchet strap is a multipurpose lashing strap or also known as a tie down strap or ratchet strap – If you can not see the lashing strap you require, call ultimate lifting solutions today on 01384 986 026 to discuss.

50mm Ratchet Straps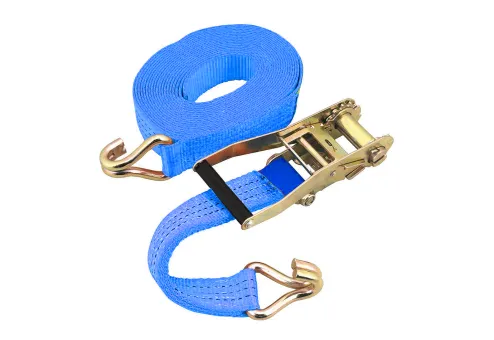 50mm Ratchet Strap Claw Hook MBF5000daN/LC2000daN
LKRLB
50mm Ratchet Strap Claw Hook MBF5000daN/LC2000daN is a two-part Ratchet Strap system c/w standard Claw Hook ends used for lashing down all types of loads to vehicles or trailers. These tie-down straps are the most commonly used and available in lengths starting from 3m. Please see the drop-down menu for sizes available.
£6.29 ex VAT
£7.55 inc VAT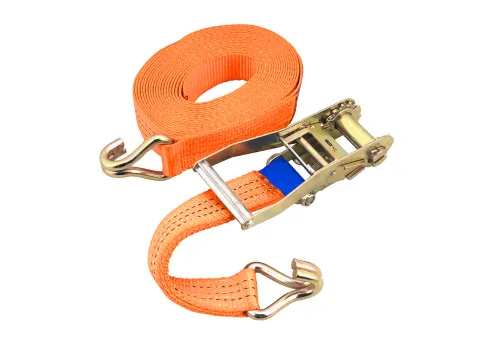 50mm Ratchet Strap Claw Hook MBF5000daN/LC2500daN
LKRL
50mm Ratchet Strap Claw Hook MBF5000daN/LC2500daN supplied as a two-part Ratchet Strap system c/w Claw Hooks. Commonly used for lashing down all types of loads to vehicles or trailers. Supplied with a larger Lashing capacity of 2500Kgs which is more than strong enough to hold most equipment securely.
£6.75 ex VAT
£8.10 inc VAT
At ultimate lifting solutions our team have been selling ratchet straps for over 20 years – we can help with all your requirements when it comes to purchasing ratchet straps – From the range we can offer our lightweight 25mm ratchet straps our medium duty 35mm ratchet straps and out most popular 50mm wide ratchet straps, we also supply and sell the heavy duty 75mm ratchet straps that have an MBL of 10 tonnes. We can offer bundle prices to meet your requirements – So it does not matter if you require one ratchet strap or a pair of ratchet straps, or do you require one box of ratchet straps or a pallet lad of ratchet straps. ULSLIFTING can help with your enquiry.
What is a ratchet strap? Manufactured from quality hard wearing polyester webbing, fitted to a heavy duty ratchet to make up a standard two part ratchet strap system – The long webbing part usually has a claw hook or J hook sewn to one end , and the ratchet also has a small webbing section with another J Hook or Claw hook fitted to it – The Claw end fittings are great for hooking into the lashing point on a flatbed lorry of the lashing points inside a container.
What are Ratchet Straps Used For? To delivery anything large within the UK, before it starts its journey, it must be safe and secure on or in the vehicle it is being transported on or in. this prevents loads falling off the back of a lorry. From hay bales on the back of farming lorry to steelwork to make a new house they need to be secure before it starts its trip. Therefore, if you are travelling a long a motorway and you pass a lorry carrying a large heavy structure you will see it is either secured down by webbing load restraint equipment which is usually a orange or blue ratchet strap, or its secured down via lashing chains. This section is just discussing ratchet straps.
Different Size Ratchet Straps. There are 4 standard size ratchet straps. These can be measured in the width – the smallest and lightest ratchet straps are 25mm wide. Then there is the 35mm wide range. The most common ratchet strap is 50mm wide ratchet straps and lastly there is the heavy duty 75mm ratchet straps. The different width also means the ratchet straps have different capacities the 25mm light duty ratchet straps have a Lashing Capacity of either 400daN or 500daN and a min break load of double its lashing capacity of 800daN and 1,000dan. The next size up is the 35mm medium range ratchet straps, with a lashing capacity of 1,000daN and a minimum breaking load of 2,000daN. Next size is the most common and the size ultimate lifting solutions sell the most of the 50mm wide ratchet strap – we can offer two price ranges in this size the 50mm wide standard ratchet strap with a lashing capacity of 2000daN and a MBL of 4000daN and then we supply the top of the range 50mm ratchet strap to BS EN12195.2 fully compliant across Europe. We also supply a 75mm wide Ratchet strap, these load restraint straps have a 000dan lashing capacity with a 10, 000daN min break capacity.
Non standard Ratchet Straps. There are so many different variations of ratchet straps and load straps, to many to create pages for all of them – we can supply ratchet straps with S hooks or ratchet straps with snap hooks or even ratchet straps with chassis hook. We do not only offer the two part systems, we can offer endless ratchet straps and cambuckle straps – if you require a non-standard load securing strap then give Ultimate Lifting Solutions a call and discuss your requirements