Big Bag Lifter
Welcome to the Ultimate Lifting Solutions Big Bag Lifter section of the ULSLIFTING website, where we offer a large selection of quality manufactured Big Bag lifters that can be either attached to any forklift or can be crane slung all supplied from top manufacturers.
If you cannot see an exact match – Please do not hesitate to call our sales team on 01384 986 026 or email us sales@ulslifting.com and we will endeavour to help with your requirements, as we have access for 1000s more products than shown currently throughout the website.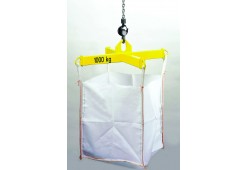 TTB Camlok Big Bag Lifter
TTB
The Camlok TTB Big Bag Lifter was designed to lift and transport large and bulk bags safely and securely.
Loved by builders yards and on construction sites for relocating 1 tonne bulk bags of gravel or sand and similar goods
£308.84 ex VAT
£370.61 inc VAT