Drop Bottom Skips & Stillages
Drop Bottom Skips & Stillages
Ultimate Lifting Solutions offer a large selection of Forklift Drop Bottom Skips and Stillages. These compact heavy duty stillages are ideal where space is a limiting factor. Once the drop bottom bin has been filled it can be lifted up via a forklift truck using the fork pockets, driven to the waste disposal area and the contents can be dropped automatically by the forklift operator, without leaving his seat. The ULS range of Forklift Drop bottom bins are a quality UK manufactured stillages many colours and design features
If you need help choosing your Heavy Duty Drop Bottom Skip, feel free to call our team today on 01384 986 026 or email Ultimate Lifting Solutions on sales@ulslifting.com

Drop Bottom Skip
DBS2032
Heavy duty drop bottom skip, designed for fast and easy movement / tipping of bulk waste materials on constructions sites, factories and farm yards.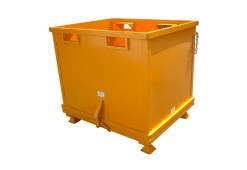 Drop Bottom Skip (Forklifts)
DBS
Bottom emptying skips with fork pockets are more compact than standard tipping skips. Easily empty waste via the bottom of the bin. locate close to a workstation, or fit in tight spaces, out of the way and not creating an obstacle to the working area.

£809.98 ex VAT
£971.98 inc VAT