Lashing Chain Kit
Ultimate Lifting Solutions supply a large selection of tie down chains and lashing chains kits. We have various sized chain to make up the lashing kit to suit your requirements. All our chain kits are manufactured from high quality, high strength chain. ULS Lifting offer both standard Lashing Chain from grade 8 chain and lashing chain manufactured in accordance to BS EN121953
The ULS Lashing kits are a practical solution for securing loads before transportation. From a small mini digger to a JCB, from engineering steel profiles and a huge, fabricated silo. The Ultimate Lifting Solutions Ltd chain kits are up to the task.
If you cannot see what you require call ULS on 01384 986 0326 or email us on sales@ulslifting.com and we will contact, you back immediately.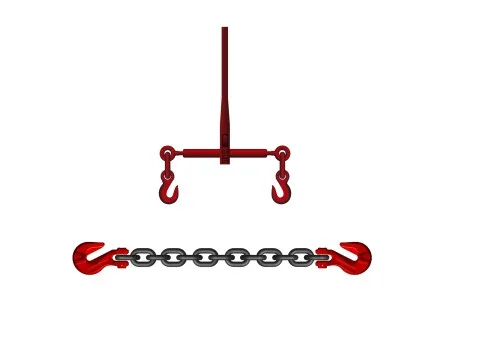 Lashing Chain Kits c/w both chain and loadbinders
LCK
Lashing Chains Kits with Loadbinders. Perfect when transporting heavy and bulky loads such as diggers, JCBs, Machinery and steel plate & sections, Our lashing chain kits are supplied with all your require One chain and then select if you require a Load binder, then just choose your chain length.
£11.45 ex VAT
£13.74 inc VAT
Lashing Chain Kits
Ultimate lifting solutions try and think of everything to help our customers when it comes to purchasing tie down kit or lashing chain kits – it can be simple – just chose your chain diameter and follow the simple steps to create your tie down kit – chose the first end fitting of the lashing chain, then chose the opposite end fitting. Next will be chain length itself and finally add the load binder if required. That makes one lashing down chain, just select how many you need.
Here at ULS Ltd we make all the lashing chains to customer requirements, we can make and dispatch within one day – So if you cannot see the exact tie down chain sling required – Give ULS a call today to go through your requirements.