Festoon Systems
Welcome to the ULS C-Rail Festoon Systems Section offering a comprehensive range of heavy-duty Cable Festoon Systems that help create a safe and economical method of supplying power to overhead cranes, hoists, and other machinery that travel along fixed tracks. Our most common and cost-effective solution is the C-Rail Festoon System for Overhead Cranes and Hoists, which is compatible with both electrical cable and hose. Can be supplied to suit any length of runway beam.
The C-Rail Cable Festoon System is supplied in kit form and can be easily fitted on top of a crane or hoist beam, within the kit will be enough track, towing trolleys for carrying cables along the track, and flat PVC cable to create one full power supply system. If you need help selecting the correct power supply system, please feel free to contact ULS Lifting to discuss your requirements.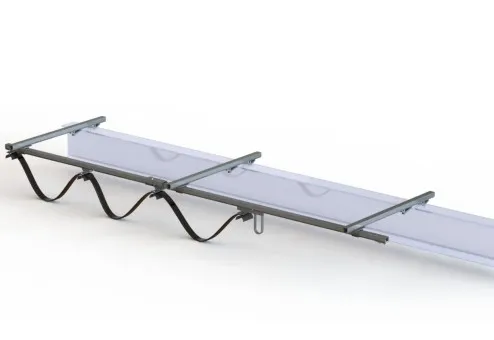 Festoon System for Overhead Cranes & Hoists
FEST SS
C Rail Style Festoon System (Full Kit) including flat form power cable, cable trolleys & track. These simple-to-install lightweight kits provide a safe and economical means of supplying power to overhead hoists, overhead cranes, and most other types of moving machinery that travels along a fixed track. Once fitted eliminates dangerous dangling down cables and looks like a professional install or refit

£178.88 ex VAT
£214.66 inc VAT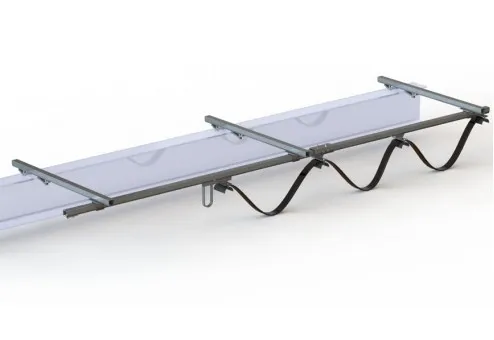 Yale Festoon Power Supply Cable System
Festoon Kit
Yale Festoon Power Supply Cable System is a cost-effective Industrial Festoon System designed for Overhead Cranes & Hoists.

£244.98 ex VAT
£293.98 inc VAT
What Are Cable Carrying / Festoon Systems?
if you need to get power cables or control cables to any moving machinery or equipment safely, then a festoon system should be used - They provide a safe and neat solution of carrying a Power supply cable or control in the form of flat PVC cable or round cable to the moving equipment along a fixed track.
C-Rail Cable Festoon Systems are great for fixing to crane rails or I-Beams to supply power and control cables to overhead chain hoists and wire rope hoists - They simply fit on the steelwork giving a track system that can run along the full length of the crane system - C-Rail festoon systems are sold as a modular system, which means it can be sold to suit your system requirements, it is lightweight in design so does not add excessive weight to the supporting steelwork. a C-Rail System is typically used in supporting both power feed and control feeds to hoists, pendant control systems, and factory cranes. we can supply a festoon system to suit either flat form cable or round cables and even hoses. the system itself is made up of the C-Rail section itself, supplied in 3m or 6m lengths and a standard festoon system is supplied with all the joints and fixings required to make up the selected track lengths - the kit is supplied with, track joints to connect the track together. support arms with brackets to fit on top of the I beam or steelwork. cable running trolleys for the flat form or round cable. a towing cable trolley and end stop - At ultimate lifting solutions, we also supply enough flat form cable required to wire in the system. ULS supply as standard the supply cable kits - but we can also supply a power and pendant festoon kit and a pendant system kit.
If a C-Rail festoon system is not suitable, then we can offer a catenary wire system which is ideal when an economical solution is required for just a single run of supply cable over a shorter distance. It is the same principle as the C-Rail system numerous trolleys are connected to a PVC-covered wire rope that has been connected above the machinery tightly. they are practical on lengths under 20m and are commonly seen on small Jib cranes or monorails. For specialist installations such as supplying power to outdoor Jib cranes, ULS Lifting can offer a stainless steel track system.
lastly, we can offer the Auto Cable Reels - These are great at supplying power cables to machinery or equipment in more compact areas, or in places where there is no room or it is not practical to fit the festoon system directly to the track or beam - These spring operated cable reels can be fixed to a wall out of the way and connected directly to the electric chain hoist. The internal spring will keep the wire at a suitable tension so it does not sag or drop into the working area. They are commonly used on gantry cranes and mobile cranes.
Pendant Festoon systems help to keep supply cable out of the working area of the hoist or machinery it is attached to - it is not only practical and safe, but also makes any installation look neat, tidy, and professionally installed. It will also help the lifespan of the cabling as no extra stress is applied to the supply cabling system - if in any doubt about festoon systems, please feel free to contact Ultimate Lifting Solutions today, to discuss your festoon system.
If you are not sure what a festoon system is, they are also commonly known as -
FESTOON CABLE SYSTEM, PENDANT FESTOON SYSTEM, POWER & PENDANT SYSTEM, FESTOON CABLE SUPPLY, CABLE MANAGEMENT SYSTEM, CABLE HANGING, C-TRACK FESTOON SYSTEM, C-TRACK FESTOON CABLE SUPPLY, MOVING INDUSTRIAL MACHINE POWER SUPPLY, MOVING INDUSTRIAL MACHINE POWER FEED, OVERHEAD CRANE POWER SUPPLY, OVERHEAD CRANE POWER FEED, C-RAIL FESTOON CABLE SYSTEM, C-TRACK DOWNSHOP SYSTEM, FEED SYSTEM, C-TRACK FESTOON CABLE SYSTEM, C-RAIL FESTOON SYSTEM, COLTON ELECTRICAL COMPATIBLE C-RAIL, COLTON ELECTRICAL COMPATIBLE FESTOON SYSTEMS