Air lifting Bags (Pneumatic)
Air lifting Bags (Pneumatic)
The ULS range of Inflatable Air Jacks, supplied from stock. These air lifting bags work at only 8 bar of pressure and can be used to lift or position cars, caravans, and machinery with very little effort. These Pneumatic lifting bags come in two models the Powermat and Stakjak offering a solution to all your air lifting problems.
If you require more information on all our inflatable lifting bags, give the Ultimate Lifting Solutions team a call today 01384 986 026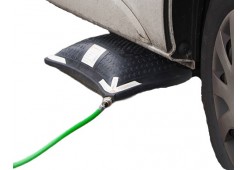 Air (Pneumatic) Lifting Jack - Powermat 8 Bar
Powermat KS
The Powermat range of quality UK manufactured heavy duty, high-pressure (8 bar) air lifting bags designed primarily for lifting operations such as cars and other vehicles, machinery, steelwork and even bridges. inflates quickly on air only to give a easy to use air lift bag.

£144.44 ex VAT
£173.33 inc VAT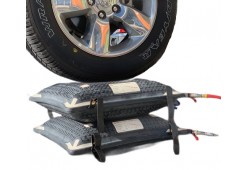 StakJak Lifting Mats - 8 Bar
StakJak KSM
The MFC StakJak Air Lifting Bags are a range of quality UK-manufactured, high-pressure (8 bar) flat profile pneumatic air jacks, primarily for heavy-duty lifting operations such as machinery, steelwork, bridges and vehicle recovery. The Flat profile has several advantages over normal pillow lifting bags.

£644.98 ex VAT
£773.98 inc VAT
The Powermat air lifting bags start from as little as 1.4 tonne capacity up to 67 tonnes capacity and can even be used stacked to give a very versatile airbag lifting system - This is the perfect air bag lifter if being used as an air bag jack for cars. The Powermat is a Kevlar air lifting bag, these rubber cushions also known as pillow lift bags are very versatile, these air bag jack lifts are commonly used for numerous lifting processes from positioning machinery, balancing a caravan or just as an airbag lifting system within a factory.
The Stakjak KSM Air Lifting Mats are our professional heavy-duty range of pneumatic lifting bags. Great for heavy machinery or other industrial lifting requirements, such as levelling a bridge, this range of airbag lifting systems start from 3.6 tonne up to 24.6 tonne and are also stackable to give a greater lifting height. the flat design has many advantages over the traditional pneumatic lifting bags, they can be stacked on top of each other to give a flat stable air bag jack for cars and other larger vehicles such as lorries and buses.
Both the Powermat KS Inflatable bags and the Stakjak KSM Lifting Mats have many uses as inflatable lifting bags, from there beginnings as primarily used as air bag jacks for cars within the breakdown and recovery industry, where they were ideal when jacks suck as hydraulic jacks or powered jacks could not be used. these airbag car lifts were perfect for lifting cars off the ground to be recovered. Nowadays these pneumatic lifting bags are commonly used for many lifting applications, from replacing a car jack with an air car lift to save weight and space, to a full airbag lifting system to help lift or stabilise a building or structure. These air bag lifting devices are used all over the world by rescue and recovery teams.