Site Storage Chests
Welcome to the U L S online section for Site Storage Chests. ULSLIFTING offer a comprehensive range of high quality tool and equipment chests are larger in size to the site vaults and aimed at securing both tools and equipment either onsite or around the workplace / factory. Ultimate Lifting Solutions offer a good selection of Security Onsite Chests from the market leaders Armorgard,
If you cannot see the exact match to your requirements, feel free to contact us on 01384 986 026 to discuss your requirements.

Armorgard Oxbox OX4 Site Chest
Oxbox OX4 Site Chest
A Simple yet dependable solution for securing tools & equipment in this medium duty site tool box. The Armorgard Oxbox has been designed as a no frills cost effective alternative to the higher priced Armorgard site safe boxes, but there has been no compromise on quality.

£908.89 ex VAT
£1,090.67 inc VAT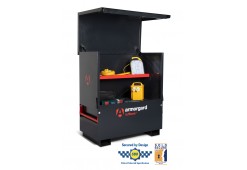 Armorgard Tuffbank TBC4 Site Chest
Tuffbank TBC4 Site Chest
A new and improved version from the Armorgard range. The Tuffbank TBC4 Site Storage Box sets the industry benchmark for quality at very competitive prices. Hardened steel plates and anti-jemmy features makes it virtually impossible to break into. Fitted with forklift skids for easy transportation

£1,169.98 ex VAT
£1,403.98 inc VAT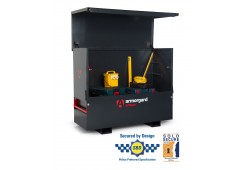 Armorgard Tuffbank TBC5 Site Chest
Tuffbank TBC5 Site Chest
A new and improved version from the Armorgard range. The Tuffbank Site Tool box sets the industry benchmark for quality at very competitive prices. Hardened steel plates and anti-jemmy features makes it virtually impossible to break into. Fitted with forklift skids for easy transportation

£1,409.98 ex VAT
£1,691.98 inc VAT