LIFTKET
Ultimate Lifting Solutions offer a comprehensive range of Liftket 400volt electric Chain Hoists. All Hoists can be built, tested and delivered within a few days form date of order.
Who is Liftket? A German company since 1948, been manufacturing and supply electric hoists since 1952. All Liftket hoists are designed, engineered, manufactured in Germany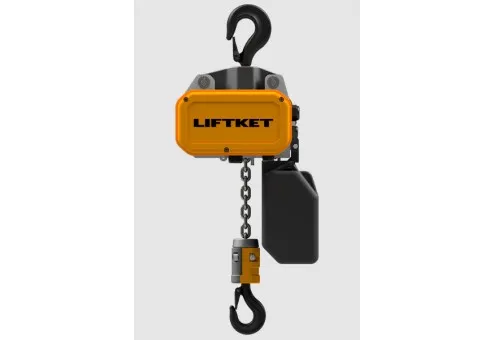 Liftket Star Electric Chain Hoist
Star
The Star range of Electric Chain Hoists from German manufacturer LIFTKET. The Liftket range is a quality built robust hoist which are currently our best selling hoist due to their superior build quality and performance ratings. Suitable for lifting most industrial loads from 125Kgs up to 5,000Kgs

£1,198.24 ex VAT
£1,437.89 inc VAT
History of LIFTKET Hoffmann GmbH
Much has changed since the company was founded in 1948. However, one thing has always remained the same: The quality of LIFTKET products – Made in Germany.
The company founder and genius Dietrich Hoffmann set the standard for electric chain hoists used worldwide today for three generations. The horizontal arrangement of motor and gearbox as well as the patented safety brake / clutch system are just two examples. The spirit of innovation, the highest standards and attention to detail have been the hallmarks of hoists from Wurzen for over 70 years. Following this philosophy, the needs of customers and partners are still the focus of our thoughts and actions today. This shapes and designs LIFTKET products and makes them the best on the market. Several hundred thousand LIFTKET electric chain hoists prove this impressively in their international deployment.