Car Ramp Extensions 400kg Each 800kg per Pair




Estimated lead time:1 - 2 days
Please call us if you need this item sooner
CLICK
& COLLECT
Next day
delivery
SAME DAY
DELIVERY
(Call us)
Seen this product cheaper elsewhere?
We will always try to offer this product at the best price. We will do our best to not just match it but to beat it.
Price match
promise
Car Ramp Extensions 400kg Each 800kg per Pair
Brand:

Description
Car ramp extensions to decrease ascent angle. Ideal for cars with low ground clearance. Attaches to standard car ramps with a minimum width of 195mm

£31.74 ex VAT
£38.09 inc VAT
Suitable for use with Model No: CAR2000
Related products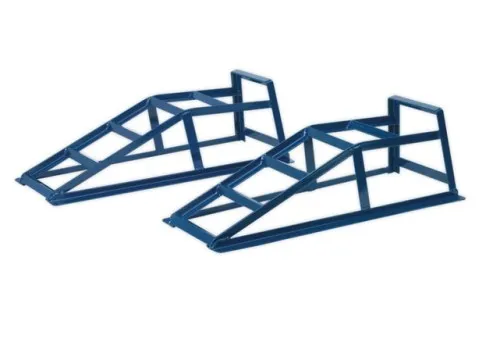 Car Ramps 2 tonne per pair CAR2000
CAR2000
Sealey CAR2000 Car Ramps 1tonne Capacity per Ramp 2tonne Capacity per Pair. Suitable for professional or serious DIY applications. Manufactured from 3.5mm steel section, corrosion resistant finish.

£68.75 ex VAT
£82.50 inc VAT
Car Ramp Extensions 400kg Each/800kg per Pair by Sealey. These steel construction car ramp extensions to decrease ascent angle making them ideal for cars and sports cars with low ground clearance.
The Sealey Car Ram Extensions 400kg can attach to a standard car ramp with a minimum width of 195mm. Suitable for use with Sealey Car Ramp Model No: CAR2000.
| | | | | |
| --- | --- | --- | --- | --- |
| Model | Capacity Each | Capacity Pair | Length | Max Width |
| CAR2001 | 400Kgs | 800Kgs | 630mm | 195mm |
Capacity each: 400kg
Capacity pair: 800kg
Length: 600mm
| | | | | |
| --- | --- | --- | --- | --- |
| Model | Capacity Each | Capacity Pair | Length | Max Width |
| CAR2001 | 400Kgs | 800Kgs | 630mm | 195mm |
Sealey is a well-known and reputable brand in the automotive and industrial tools industry, offering a wide range of high-quality products. Here are some key benefits of choosing Sealey as your preferred brand:
Quality and Reliability: Sealey products are known for their exceptional build quality and reliability. They undergo rigorous testing and adhere to stringent quality standards, ensuring that customers receive reliable and durable tools that can withstand demanding usage.
Comprehensive Product Range: Sealey offers an extensive and diverse product range, catering to various industries and applications. Whether you need automotive tools, workshop equipment, hand tools, or power tools, Sealey has you covered.

Innovation and Technology: The brand stays up-to-date with the latest technological advancements, incorporating innovative features and design improvements into their products. This commitment to innovation ensures that users benefit from cutting-edge tools that enhance efficiency and performance.

Safety Compliance: Sealey prioritizes safety in its product design and manufacturing processes. Many Sealey tools are certified and comply with industry safety standards, providing users with peace of mind when working on various tasks.

Warranty and Customer Support: Sealey stands behind the quality of its products by offering generous warranties. In case of any issues, their customer support team is responsive and ready to assist with inquiries, replacements, or repairs.

User-Friendly Design: Sealey takes user experience seriously, and their tools are designed with ergonomics and ease of use in mind. Comfortable grips, intuitive controls, and thoughtful features make Sealey tools user-friendly and efficient.

Trusted Brand: With decades of experience and a solid reputation, Sealey has earned the trust of professionals and enthusiasts alike. Their commitment to delivering high-quality tools has established them as a reliable and reputable brand in the industry.

Worldwide Availability: Sealey products are distributed globally, making them accessible to customers in various countries. This wide availability ensures that users around the world can benefit from their high-quality tools and equipment.

After-Sales Service and Spare Parts: Sealey provides excellent after-sales service, including readily available spare parts for many of their products. This ensures that customers can easily maintain and repair their tools, extending their lifespan.

Environmentally Conscious: Sealey strives to be environmentally responsible by incorporating eco-friendly practices into their manufacturing processes. They also comply with environmental regulations and standards, contributing to sustainable and responsible manufacturing.
In conclusion, choosing Sealey means investing in a brand that offers quality, reliability, innovation, and excellent customer support. Whether you're a professional mechanic, tradesperson, or DIY enthusiast, Sealey's diverse range of tools and equipment is designed to meet your needs and exceed your expectations.
More products from category:
Garage and Workshop
View all
SUBSCRIBE FOR THE LATEST NEWS & SPECIAL OFFERS
Sign up here to get the latest news, updates and special offers delivered to your inbox.
Sign Up