Warrior Handling Equipment
Warrior Handling Equipment
Warrior Handling Equipment are the premier name in material handling with there headquarters based in the midlands offer a huge range of material handling equipment and are highly regarded within the trade as a manufacturer and supplier of quality material handling equipment. Ultimate Lifting Solutions is proud to be able to supply all products from Warrior Handling Equipment.
Warrior Handling are renowned for selling quality material handling equipment such as hand pallet trucks, Platform Trucks, Scissor Lift Tables, Warrior Drum Handling Equipment and Warrior Load Movers. They also supply a comprehensive range of powered pallet trucks and powered stackers and over the last few years Warrior Products have increased derivatives on the range of material handling equipment, giving even more opportunity to solving material handling applications.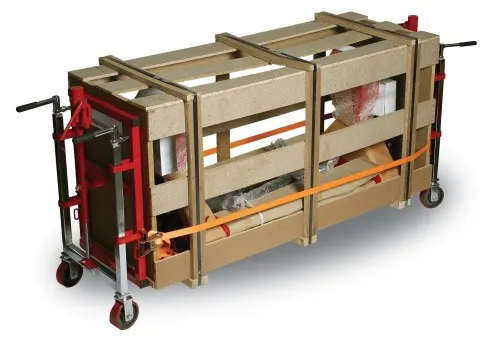 1,800Kgs Warrior Safelift Furniture Movers
WR180B
The Warrior Safelift Load Movers - The ultimate equipment offering professional transportation of heavy items and awkward loads. Can be used to transport loads such as Cabinets, Containers, furniture, Safes, Switchgear, and Showcases around a museum, vending machines, and even machinery. Ideal for delivery, removal, maintenance, and assembly applications. In fact, the Warrior Safelift effectively alleviates the problem on-site with moving large objects.

£519.98 ex VAT
£623.98 inc VAT
Warrior pride themselves of only supplying quality items and they constantly audit there manufacturing partners and even guarantee that all warrior products are of high quality and value for money.

Warrior Handling Equipment Shop specialise in trade supply only, this commitment to support helps Ultimate Lifting Equipment with a huge range of stocked pallet trucks and scissor lift tables, along with drum handling equipment. All items supplied with Certificate of Conformity. No Quibble 7 Day return (see terms & Conditions) Full ON-SITE warranty. 90% spare parts stocked in the UK.

Warrior product range is vast and most items are stocked on the shelf in the heart of the country in the Black Country. The Pallet Truck range starts with the Warrior WR25 Hand Pallet Truck at 2500Kgs capacity various colours are available from stock, there is also the Warrior Eco Warrior 2500Kgs pallet trucks and the warrior easy roller.