B 88.01 - Liftmaster B1 Lifting System with Dual Vacuum Lifter












Key notes for ordering:
You are purchasing both the Transporter and the Vacuum Lifter - The Vacuum Lifter can be purchased separately if required .
Estimated lead time:5 to 7 Days
Please call us if you need this item sooner
CLICK
& COLLECT
Next day
delivery
SAME DAY
DELIVERY
(Call us)
Seen this product cheaper elsewhere?
We will always try to offer this product at the best price. We will do our best to not just match it but to beat it.
Price match
promise
B 88.01 - Liftmaster B1 Lifting System with Dual Vacuum Lifter
Brand:

Description
The Liftmaster B1 Vacuum lifter is complete with a trolley. This unit is an innovative handling and mounting aid which enable the user to transport large and heavy objects such as Glass Panels, Windows.
£7,310.00 ex VAT
£6,400.00 ex VAT
£7,680.00 inc VAT
Related products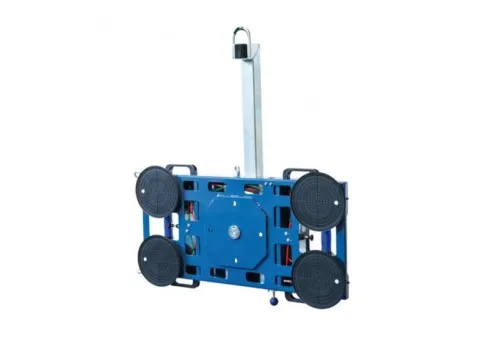 Manual Vacuum Lifting Device B18DM4GS
BO B18DM4
The Liftmaster Vacuum Lifting Device provides a cost-effective solution, but with no sparing on quality from this German-manufactured product. Perfect for handling large glazed units or any flat polished products. Can be easily connected to overhead cranes and are simpler and far more flexible to use than many of its rivals.

£2,510.00 ex VAT
£2,200.00 ex VAT
£2,640.00 inc VAT
The Liftmaster B1 - All-in-one Vacuum Lifter and transporter that specialises in the transport and lifting of airtight objects such as glass and stone
The tendency towards increasingly larger glass constructions in architecture and the growing use of 2-gap insulating glass pose new challenges for glass processors and assemblers: Elements which could previously be moved by two people have now become so heavy that they can hardly be transported manually on-site or within company premises any longer. With the Liftmaster B1 Bohle has developed an innovative handling and mounting aid which enables transporting objects of up 180 kg such as glass panes, window elements or metal and stone sheets easily and safely - by only one person.
Includes vacuum lifter: which can be rotated by 360° · can be removed very easily and used separately together with a crane · has a dual circuit vacuum system with 4 suction pads · is very flat and compact · is equipped with a vacuum indicator for monitoring the vacuum · the vacuum is generated via a hand pump, therefore ready for use at all times (no previous charging of batteries required) · weight of the lifting equipment approx. 22 kg.
Technical data for the Liftmaster B1 Vacuum Lifter and frame
Head diameter - 220 mm
Max. load - 180 kg
Number of heads - 4 pcs.
Material - Steel
Product type - Lifting devices
Supplied - Assembled
Weight - 170 kg
Technical Data
Length - 1200 mm
Width - 800 mm (with axes pulled out to widen track 1.1 m)
Height - 1950 mm
Load capacity - 180 kg
Sauteller - 4th
Turn - 360 °
Swivel - 90 °
weight of the lifting equipment approx. 22 kg
Manufactured In Germany
More products from category:
Lifting Accessories
View all
SUBSCRIBE FOR THE LATEST NEWS & SPECIAL OFFERS
Sign up here to get the latest news, updates and special offers delivered to your inbox.
Sign Up