Collared Eye Bolts BSW Imperial Thread


Key notes for ordering:
Supplied in Self Colour and supplied tested with relevant certification. Serial Number stamping on body of eye bolt available on request.
Estimated lead time:1 - 2 Days
Please call us if you need this item sooner
CLICK
& COLLECT
Next day
delivery
SAME DAY
DELIVERY
(Call us)
Seen this product cheaper elsewhere?
We will always try to offer this product at the best price. We will do our best to not just match it but to beat it.
Price match
promise
Collared Eye Bolts BSW Imperial Thread
Brand:

Description
"BSW Imperial Collared Eye Bolts manufactured to BS4278 Table 4. Sizes 1/4"" to 1.1/2"". Used to create a safe and secure Lifting / Anchor point between a load and a lifting sling."

£2.49 ex VAT
£2.99 inc VAT
Please note: We are able to supply & deliver CEBI06 & CEBI08 on request.

Please call us on 01384 986 026 for pricing and availability.
Related products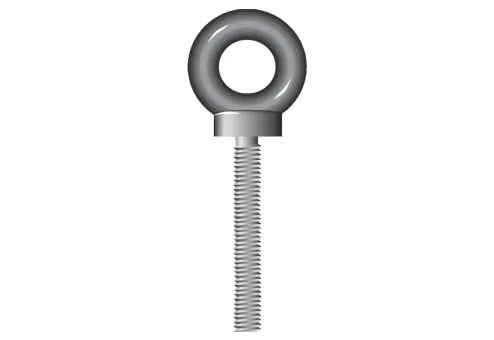 Long Shank Collared Eye Bolts Metric Thread
CEBML
Long Shank Collared Eye Bolts Metric Thread. Supplied with an extra long threaded area of 178mm. Manufactured to BS529 Part 1. Available in metric thread diameters, Sizes from M10 to M30.

£6.98 ex VAT
£8.38 inc VAT
BSW Imperial Collared Eyebolts manufactured to BS4278 Table 4. Sizes 1/4" to 1.1/2". Used in a wide variety of applications and commonly used to create a safe and secure lifting / anchor point between a load and a lifting sling
Material: As specified by BS 4278 Hardened and Tempered
Each eye bolt stamped with SWL and Batch Number
SWL - Safe working Load from 0.1 Ton up to 6.5 TON
S.W.L. Shown at 0° (vertical) angle of lift.
Various sizes from 1/4" to 2" available
Non-standard thread pitches available upon request.
Self-coloured finish as standard.
| | | | | |
| --- | --- | --- | --- | --- |
| Product Code | Thread | Shank Length | Eye Dia | SWL (TONs) |
| CEBI06 | 1/4 | 18mm | 15mm | 0.10 T |
| CEBI08 | 5/16 | 18mm | 15mm | 0.15 T |
| CEBI10 | 3/8 | 18mm | 15mm | 0.25 T |
| CEBI12 | 1/2 | 23mm | 20mm | 0.50 T |
| CEBI16 | 5/8 | 28mm | 24mm | 0.90 T |
| CEBI20 | 3/4 | 35mm | 30mm | 1.40 T |
| CEBI22 | 7/8 | 40mm | 35mm | 2.00 T |
| CEBI25 | 1.0 | 46mm | 39mm | 2.75 T |
| CEBI29 | 1.1/8 | 51mm | 44mm | 3.50 T |
| CEBI32 | 1.1/4 | 56mm | 48mm | 4.50 T |
| CEBI38 | 1.1/2 | 63mm | 54mm | 6.50 T |
Sizes marked • are non standard thread sizes - check before ordering
Larger Sizes available up to 2" on request - Please call our sales team for more information
We can also offer BSF and UNF Threads on request
Collar eye bolt
Alignment of the eye is also very important. Collared eye bolts can be used up to the marked SWL provided that the load is in line with the axis of the eye bolt. Collar eye bolts may also be used for non-axial loading provided that the SWL is reduced by the appropriate factors. The load should be applied within + or - 5º of the plane of the eye. The collar eye bolt is not suitable for direct connection to a hook; a shackle is usually employed for this.
In-service Inspection and Maintenance
Maintenance requirements are minimal. Keep eye bolts clean, protect from corrosion and protect threads from damage. Do not attempt to straighten bent eye bolts or re-cut threads.
Regularly inspect eye bolts and, in the event of the following defects, refer the eye bolt to a competent person for thorough examination: illegible markings; distortion; worn, or bent shanks and threads; incomplete or incorrectly formed threads; damaged eyes; nicks, gouges, cracks, corrosion or other defects.
In the UK, the Lifting Operations & Lifting Equipment Regulations (LOLER) make it clear that all shackles and eye bolts used for lifting purposes are lifting accessories. They should therefore be subject to a thorough examination by a competent person at least every six months. Regardless of the prevailing legislation, the Lifting Equipment Engineers Association (LEEA) strongly recommends that this policy is adopted by all those with responsibility for ensuring the safe condition of lifting equipment.
If you are in any doubt please contact Ultimate Lifting Solutions to discuss your LOLER / Thorough Examination requirements, we have trained engineers that can carry out all your inspection / services either on-site or in-house.
More products from category:
Lifting Accessories
View all
SUBSCRIBE FOR THE LATEST NEWS & SPECIAL OFFERS
Sign up here to get the latest news, updates and special offers delivered to your inbox.
Sign Up