FLEX Crane Radio Remote Control Repair








Key notes for ordering:
Contact ULs for full repair options available
Estimated lead time:5 to 7 days
Please call us if you need this item sooner
CLICK
& COLLECT
Next day
delivery
SAME DAY
DELIVERY
(Call us)
Seen this product cheaper elsewhere?
We will always try to offer this product at the best price. We will do our best to not just match it but to beat it.
Price match
promise
FLEX Crane Radio Remote Control Repair
Brand:

Description
FLEX Crane Radio Remote Control Repair service is available from ULS Lifting. Professional repair service to all ARC FLEX and Magnetek Crane Radio Remote Control transmitters and receivers on both generation 1 (GEN1) and generation 2 (GEN2) handsets and control systems.

£125.00 ex VAT
£150.00 inc VAT
Related products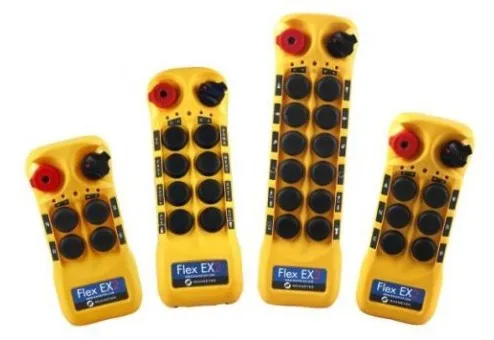 ARC FLEX EX Transmitter
FLEX EX
Replacement Arc Flex EX Gen 1 Radio Remote Control Transmitter / Handset only. Brand New controller to replace damaged or broken FLEX Gen One models only. FLEX EX4, Flex EX8 and EX12 available from stock.

£549.98 ex VAT
£659.98 inc VAT
FLEX Crane Radio Remote Control Repair Service is available from Ultimate Lifting Solutions Ltd. We offer a professional repair service to all ARC FLEX and Magnetek Crane Radio Remote Control transmitters and receivers on both generation 1 (GEN1) and generation 2 (GEN2) handsets and control systems. If you need to repair a remote call ULS Lifting today.
Has your FLEX Crane radio remote handset stopped working, has it been dropped and lost a button, or cracked housing? Has your Crane radio remote controller stopped talking to the Crane radio remote system? Here at ULSLIFTING, we can do a full investigation of your radio control system using our fully trained and very experienced technicians, we will then report our findings and offer a suitable solution to the problem.
What is included in the initial FLEX Crane Radio Remote Control Repair charge - Includes the first-hour labour/servicing and ultrasonic cleaning of the casing/re-labelling. If a unit is deemed beyond economical repair for any reason and we quote for a new unit then this charge is waived (programming and labelling are included with new equipment)
ULSLIFTING offers the following repair options to the Magnetek Flex system and ARC Flex Systems
Flex Gen 1 Transmitter.
Flex Gen 1 Receiver.
Flex Gen 2 Radio Control System.

Flex Gen 2 Radio Control transmitter (handheld controller).
FLEX EX2 transmitters
Flex Eco Remote Control System.
FLEX MRX with Micro Receiver.
Flex Base System.
Flex Base transmitter.
Flex Handy remote control system.

Flex Handy wireless remote handset.
Flex Wave System.
Flex Wave transmitter.
To use the ULSLIFTING FLEX Crane Radio Remote Repair Service - To use the ULS Arc Flex or Magnetek "Radio Control systems" for overhead cranes and overhead lifting equipment Repair Service could not be easier. Contact us by email at sales@ulslifting.com and give us some basic information on the problem and from that, we can give you a repair contract reference number and return address. Once your Flex Radio remote handset or system has been returned, will strip it down and do a full diagnosis to find the fault. Will will offer a full written report with costs of repair, then it is the customer's decision whether to continue with repair or maybe it is cheaper to replace with new, all options will be given in quotes.
Why does ULS Lifting Charge for the repair upfront - The ULS Lifting Repair charge is basically an initial investigation charge that covers the charge to strip the unit or controller down to fault find. When we quote the repair, we take the initial deposit into consideration and use this towards the hours spent on the investigation, and we adjust the quotation for repair to show this. the only time you will pay the repair charge is if you decide you do not want a repair or do not want a new replacement.
ULS Lifting also offers New systems as well as a full repair service - If you are looking to add a remote control system to your overhead crane or add a wireless pendant to your Electric Chain Hoist then give the Ultimate Lifting Solutions sales team a call today to discuss your requirements.

What are the Flex Wave, Flex Base, Flex Handy, and Flex MRX Radio remote systems for overhead lifting equipment and machinery

Radio Remote Control Systems for Overhead Lifting Equipment and Machinery. Most modern-day busy factories have an overhead crane or Electric Chain Hoist running along a beam, these cranes and hoists are fitted as standard with wired-in pendant controls. These wired pendant controls restrict the operator to always being in close vicinity to the "DANGER AREA" IE near the load being transported at height. Removing the pendant and replacing it with a Wireless Pendant and Radio Control System, not only gives the operator freedom of movement but also means he can control the overhead crane or the electric chain hoist from a safe distance.
More products from category:
Cranes
View all
SUBSCRIBE FOR THE LATEST NEWS & SPECIAL OFFERS
Sign up here to get the latest news, updates and special offers delivered to your inbox.
Sign Up