Scaffold Runway Systems
Welcome to the U L S online Scaffold Runway Systems page. A scaffold runway system is a lightweight crane system that secures directly to a scaffold structure. once erected an electric hoist or manual hoist can be fitted to the free-rolling trolley with an eyelet to create a simply cost-effective crane system for lifting and transporting loads up to 1.6 tonnes (1600Kgs).
The plus point with these simple and easy-to-install systems is that they can be quickly and easily dismantled and moved to another section or even another level and assembled again. They are supplied in a modular kit form for easy storage and transportation of parts. Every length and parts can be purchased to create even longer track lengths when required - Feel free to call ultimate lifting solutions today to discuss your scaffold runway system today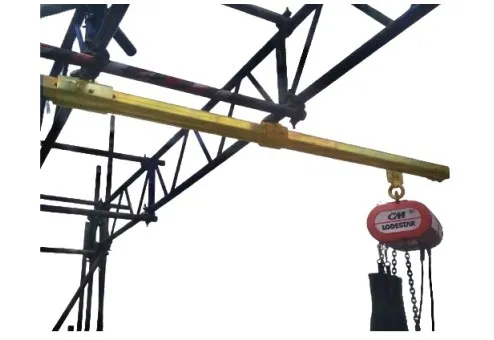 Scaffold Runway System
SRS
Scaffolding Runway System with Integral Trolley - A quality modular runway system that simply bolts to scaffold tubing to create a safe lightweight crane system including a push/pull trolley that any manual or electric hoist can be fitted to.

£164.98 ex VAT
£197.98 inc VAT