Double Drum Forklift Grab with Gator Grip

Estimated lead time:1-2 Day
Please call us if you need this item sooner
CLICK
& COLLECT
Next day
delivery
SAME DAY
DELIVERY
(Call us)
Seen this product cheaper elsewhere?
We will always try to offer this product at the best price. We will do our best to not just match it but to beat it.
Price match
promise
Double Drum Forklift Grab with Gator Grip
Brand:

Capacity
720Kgs
Suitable for Steel Drums
Description
Double Drum Grab forklift attachment that is a easy to use drum lifer which features the secure Gator Grip locking mechanism. grab is also fully height adjustable, to ensure a safe and secure two drum transport, even over rough terrain.
£475.59 ex VAT
£570.71 inc VAT
Related products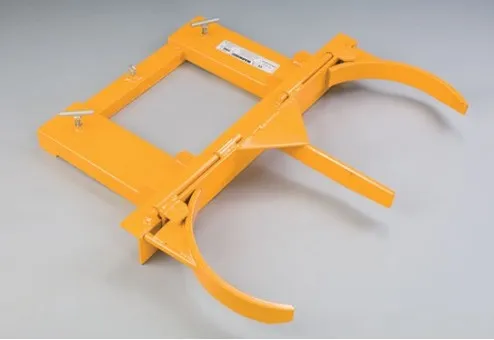 Double Forklift Drum Grab Adjustable
DLF402
Forklift mounted Drum Grab, capable of lifting two 210 litre steel drums at the same time. These quality built drum grabs are quick and simple to use by any forklift driver. Once lifted, drums can be lifted and moved safely and securely around factories and yards
£364.00 ex VAT
£436.80 inc VAT
The Double Drum Grab is an easy to use drum lifter forklift attachment that features the Gator Grip locking mechanism to ensure a safe and secure locking process on steel drums in order for drum transportation, even over rough terrain. The forklift grab is also fully adjustable in height which allows it to fit for different heights. There is little need for any manual handling of the drum, as the Gator Grip forklift grab will automatically grip the ring as soon as positive contact is made. The drum release mechanism being fully automatic as well.
In addition, this model also includes a lower cradle support to act as a stabiliser for the drums while being transprted around the factory or yard.
| | | | | |
| --- | --- | --- | --- | --- |
| Model | Capacity | Drum Type | Drum Size | Weight |
| DLFG2 | 720kgs | 2 x Steel Drum | 2 x 210 Litres (55 Gallons) | 105Kgs |
Forklift truck drum grab lifters
Drum type: steel
Model No. DLFG2
Double 210 litre drum
Certified lifting capacity kg: 720 (2 x 360kgs)
Max. fork entry size mm: 150 x 55
Weight: 105kg
More products from category:
Material Handling
View all
SUBSCRIBE FOR THE LATEST NEWS & SPECIAL OFFERS
Sign up here to get the latest news, updates and special offers delivered to your inbox.
Sign Up