Hydraulic Low Profile Drum Lifter & Loader



Key notes for ordering:
Supplied Already Assembled and ready to use. Certification and manuals also supplied
Estimated lead time:1 Day
Please call us if you need this item sooner
CLICK
& COLLECT
Next day
delivery
SAME DAY
DELIVERY
(Call us)
Seen this product cheaper elsewhere?
We will always try to offer this product at the best price. We will do our best to not just match it but to beat it.
Price match
promise
Hydraulic Low Profile Drum Lifter & Loader
Brand:

Capacity
300Kgs
Suitable for 210litre Steel Drums
Description
Heavy duty, Industrial hydraulic hi-lift drum trucks with low profile front castors for loading and unloading 210-litre steel drums on and off pallets, drum sumps, flatbed trucks and into and out of vans. A proper multi-purpose drum lifter.
£479.98 ex VAT
£575.98 inc VAT
Related products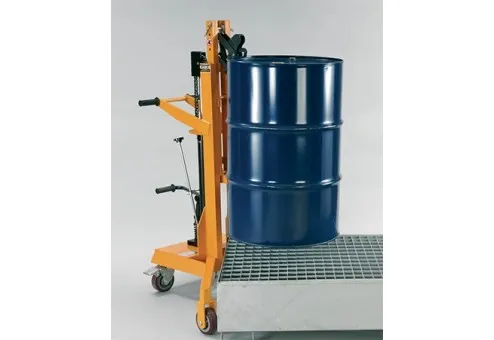 Hydraulic Corner Drum Lifter - 450Kgs capacity
DTH450
This hydraulic drum truck with angled legs for loading and unloading from corners of pallets and drum sumps. Fitted with easy action hydraulic foot pump mechanism. Probably our premier Drum Lifter within our Drum Handling range.
£974.98 ex VAT
£1,169.98 inc VAT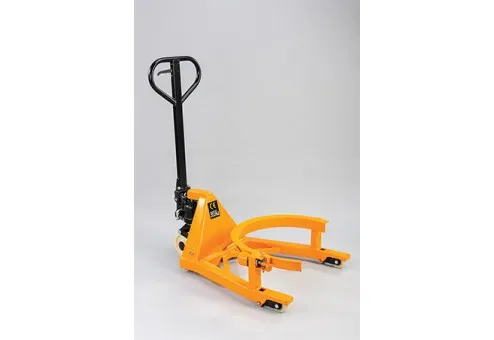 Hydraulic Pallet Truck For Steel Drum
DTP45
High quality Hydraulic Pallet Truck style drum lifter, designed solely lift and transport 210 litre steel drums.

£489.98 ex VAT
£587.98 inc VAT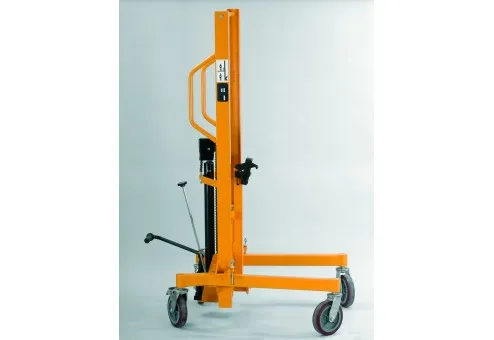 Hydraulic Drum Truck with Adjustable Legs
DTH400
Quality built Hydraulic Drum Truck that features adjustable legs and high lifting capacity, creating an ideal solution for lifting and transporting drum from various locations such as pallets and bunds and sumps that have various widths and heights.
£748.98 ex VAT
£898.78 inc VAT
One of our range of heavy-duty, powder-coated steel hydraulic hi-lift drum trucks for loading and unloading 210-litre steel drums on and off pallets, drum sumps, flatbed trucks and into and out of vans. The easy-action hydraulic pump is foot operated and each trolley has 2 x Low Profile fixed wheels and 2 x castors with brakes. Other standard features include an automatic drum grab clamp grip, fold-up pedal and manual release handle to ensure controlled lowering of the drum.
Key points
Capacity - 300Kgs
Suitability - For Steel Drums 55 Gallon or 210 litre
Low Profile - Front wheels only 75mm clearance
High lift mechanism - will lift drum onto shelves 805mm from floor
Extra wide Legs - 875mm clearance between legs
| | | | | | |
| --- | --- | --- | --- | --- | --- |
| Model | Capacity | Dimensions | Drum Type | Lifting Height | Weight |
| DTH300 | 300Kgs | 1560mm High x 900mm Wide x 1080mm Deep | Steel Drums | 805mm | 82Kgs |
The front low profile wheels mean this unit can easily slide under cabinets, work benches and pallets (Front wheels are only 64mm dia). Hi-Lift frame with an overall lifting height of 1640mm, which means a standard steel drum can be lifted 800mm from the floor, great for loading into vans or the back of pickups, or for just loading onto a bund or shelf. The extra wide legs are also advantageous if you are loading or unloading from large non-standard pallets or bunds.
This drum truck like all others is supplied fully assembled and tested. Operating instructions and certification are also supplied when we deliver these units. So rest assured, you have everything required to use this truck immediately
Hi-lift hydraulic drum with Low Profile Wheels
Drum type: steel
Drum size litres: 210
Low-level legs allow pallet loading/unloading
High lift for vehicle loading/unloading
2 x fixed wheels & 2 x castors with brakes
Max. drum lift height mm: 800
Highly manoeuvrable
Quick & easy lift & move
One person operation
Model No. DTH300
Capacity kg: 300
Dimensions mm: 1560 H x 900 W x 1080 D
Weight: 82 kg
More products from category:
Material Handling
View all
SUBSCRIBE FOR THE LATEST NEWS & SPECIAL OFFERS
Sign up here to get the latest news, updates and special offers delivered to your inbox.
Sign Up