FXAH-120 Probst GRABO Pro Lifter













Estimated lead time:1 Day. order before noon for same day dispatch
Please call us if you need this item sooner
CLICK
& COLLECT
Next day
delivery
SAME DAY
DELIVERY
(Call us)
Seen this product cheaper elsewhere?
We will always try to offer this product at the best price. We will do our best to not just match it but to beat it.
Price match
promise
FXAH-120 Probst GRABO Pro Lifter
Brand:

Description
Probst FXAH 120 Pro Lifter, designed for landscaping and tiling professionals that needs a reliable portable vacuum lifter that can securely grab almost any surface with ease. Can even lift rough, porous and wet surfaces perfect for landscapers and tilers

£370.00 ex VAT
£334.98 ex VAT
£401.98 inc VAT
We offer two Carrying Handles to fit this device that are back friendly and efficient - the solo and Duo
Probst Handheld Vacuum lifter FXAH 120 GRABO PRO is a handheld battery powered lifter with automatic switch on/off and digital display, perfect for laying slabs quickly and precisely. Idea for both porous and non porous surfaces such as Natural Stone, Concrete Slabs, porcelain and granite tiles. the main advantage of lifting or laying of slabs with the FXAH 120 Grabo Pro Lifter is the fact you lift from the centre and not the edges, protecting the edges from chipping and allows for precise laying, leaving no gaps between slabs.
Battery Power - Supplied with one Lithium heavy duty battery giving a runtime up to one day. Rechargeable with supplied charger.
Automatic Switch Off feature - Once the required vacuum is reached, the pump switches off automatically, this extends the battery life and reduces noise emissions.
Digital Display - The new display ensures the best readability of the negative pressure and the working load.
Supplied with heavy duty carry case - Waterproof plastic case. Perfectly protected against tough construction site use: waterproof, break-proof and dust-protected.
Bonus Extra - The FXAH-120 Pro is supplied with a carry strap. Fits directly onto the Grabo to be carried over shoulder.
Optional Accessories available for Probst FXAH Grabo Pro
Two Carrying Handles available and one wheelset available to suit the Probst FXAH 120 Pro Lifter, all are idea for landscapers and tilers who are constantly bending over or working on knees or need a hand when lifting those heavy slabs / tiles.
The Probst FXAH-120-SOLO-Set (Part No 48500055) One Person Carrying Handle - Three height adjustable positions available. fits quickly and easily to the Grabo Lifter via the lifting eyes.
The Probst FXAH-120-DUO-Set (Part No 48500054) Two Person Carrying Handle - Three height adjustable positions available. fits quickly and easily to the Grabo Lifter via the lifting eyes.
Once fitted to the FXAH120 Probst Grabo Pro Vacuum lifter, the carrying handles eliminated the operator from having to work on knees or constantly bending over to lift slab or tiles up. great for those bigger jobs or heavier tiles or slabs, eliminates the constant bending over hurting the back or working on knees.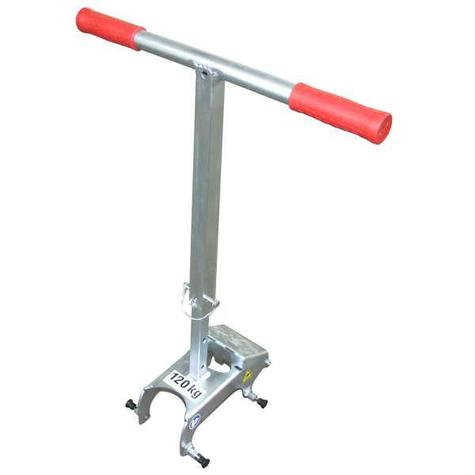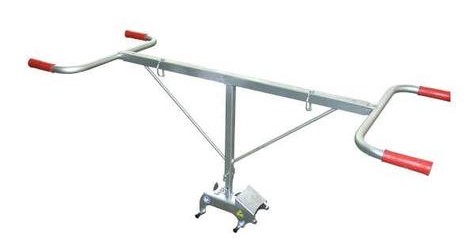 Optional Wheel Set Part no VPH-RS 42710072
The FXAH 120 Pro Lifter can now be fitted to the Probst VPH-RS Wheel Set. Supplied with two all terrain wheels that turns heavy two man jobs into a one person operation, giving ultimate mobility when laying larger slabs or tiles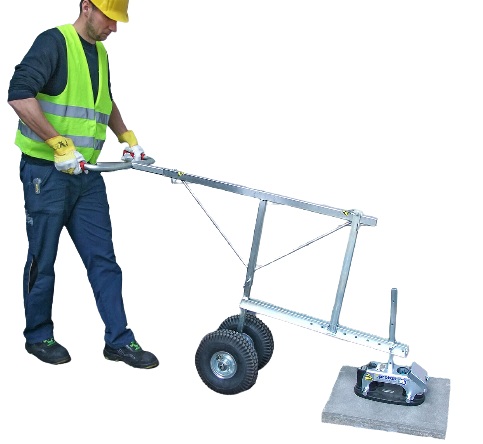 | | | | | |
| --- | --- | --- | --- | --- |
| Model | SWL | Dimensions | Battery Capacity | Weight |
| FXAH 120 Pro 58500014 | 120Kgs | 300 x 184mm x 121mm | 14.8v DC 2600m Ah Li-ion | 1.5Kgs |
RockSeal - The Grabo RockSeal attachment that fits on all Grabo vacuum lifters. This great new seal attachment is aimed at landscapers that need to move rocks or concrete slabs that have an uneven or rough surface.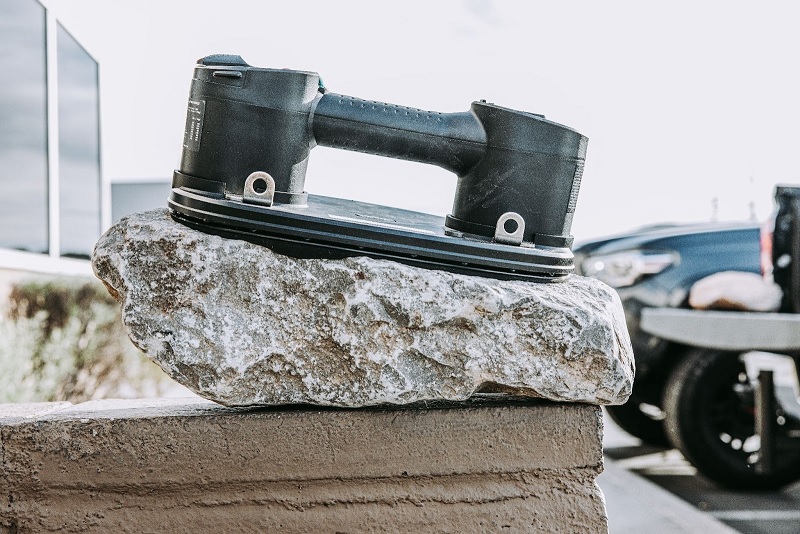 Who will use the Probst 120 PRO LIFTER Vacuum Lifter? - The Probst Grabo vacuum lifter with digital auto suction on/off is aimed at professionals across many industries - Great for Gardeners / Landscapers that lift or lay both plain or ribbed slabs or stones, Glass / Conservatory / Window companies installing windows or doors etc. Removal Companies / White Goods Delivery Drivers for moving furniture, wooden boxes and large kitchen appliances such as fridge freezers and washing machines. Tiler's to help lift, transport and lay heavy tiles and patio slabs. Carpenter / Joinery Sector for transporting Drywall. Wood Panels, Lumber and wooden beams. Granite suppliers / Cemeteries for moving granite worktops and tombstones.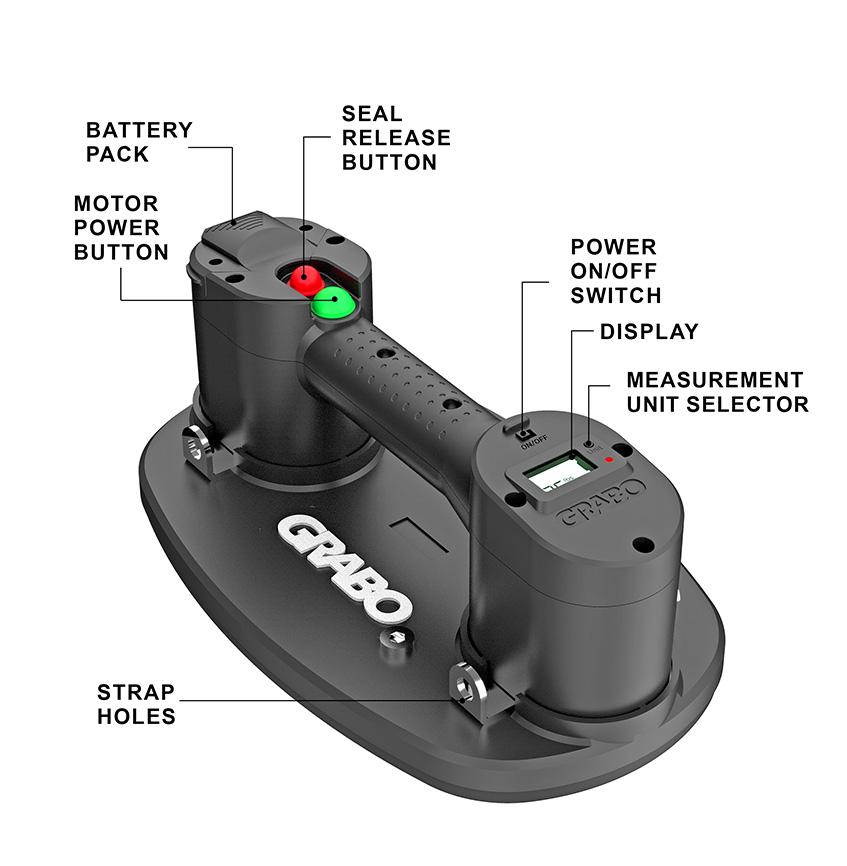 The Probst Pro Lifter has been ergonomically designed to give a comfortable yet secure grip for the operator, and if used all day long, the operator will feel less fatigue when moving heavy items or objects.
What is the difference between the Grabo Pro and the Grabo Plus?
The Probst FXAH120 Pro-Lifter is supplied with a digital display. This display will show the max weight the Grabo Pro can lift safely at that exact moment.
The Pro Lifter is also fitted with a clever digital pressure sensor, while lifting an object, the sensors automictically detects if or when suction is required to lift an object giving a safe and optimum level of suction to keep the tile or slab completely glued to the lifter, basically meaning it can not be dropped at all from the lifter.
The Grabo Probst FXAH Pro has had a new handle design, giving a more ergonomic and slimmer feel. Better when being used for long hours continuously per day.
| | | | | |
| --- | --- | --- | --- | --- |
| Model | SWL | Dimensions | Battery | Weight |
| Grabo Pro Lifter 20 | 170Kgs | 300 x 184mm x 121mm | 14.8v DC 2600m Ah Li-ion | 1.5Kgs |
The Grabo Greenline Pro lifter is capable of lifting a multitude of objects, both porous and non porous items such as glass, smooth tile, rough tile, concrete, garden slabs, plywood, timber, Gyprock, even diamond pattern steel. It does not matter if the operator is installing windows / doors, or moving furniture and boxes, it is the perfect tool to any landscaper or tiler to help lift and transport heavy slabs, tiles and patio slabs.
Looking for those edges of those large Gyprock or plywood boards? Or are you still using your bare hands for those flooring jobs like fixing tiles and laying garden slabs? This small lightweight vacuum lifter with a weight of just 1.5 kg but has the strength to hold up to 120 kg and can instantly connect to almost any surface rough, smooth, dry or damp. This means the Nemo Grabber makes it easy to pick up, transport and place different objects such as furniture, plywood, tile, slabs and much, much more.
What's in the box of the Grabo Pro Vacuum Lifter? One Vacuum PRO Lifter, one hard waterproof carry box, carrying strap, one multi voltage charger (110v & 240v) , One lithium-Ion battery. One manual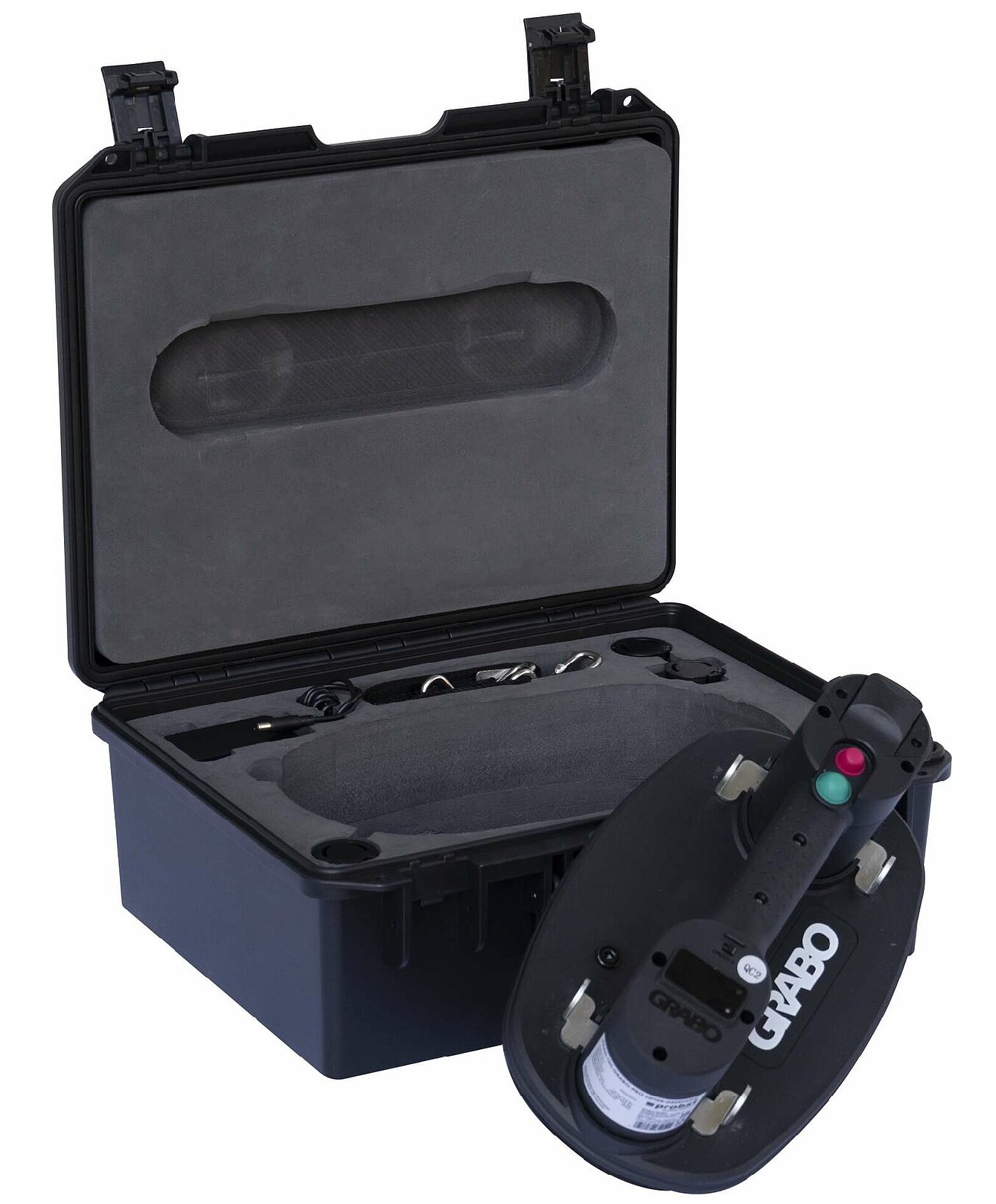 What is the FXAH 120 GRABO Pro Lifter? A battery powered vacuum lifter that can basically pick up a huge range of site materials from drywall, exterior building panels, tombstones, patterned slates / floor panels, textured glass and granite to concrete, patterned steel, wood and will even grab to rough, porous and wet surfaces
Why add the handle accessories - By attaching the pro lifter to the carrying handles or wheel set the operator will now be working in a body friendly position either alone or in pairs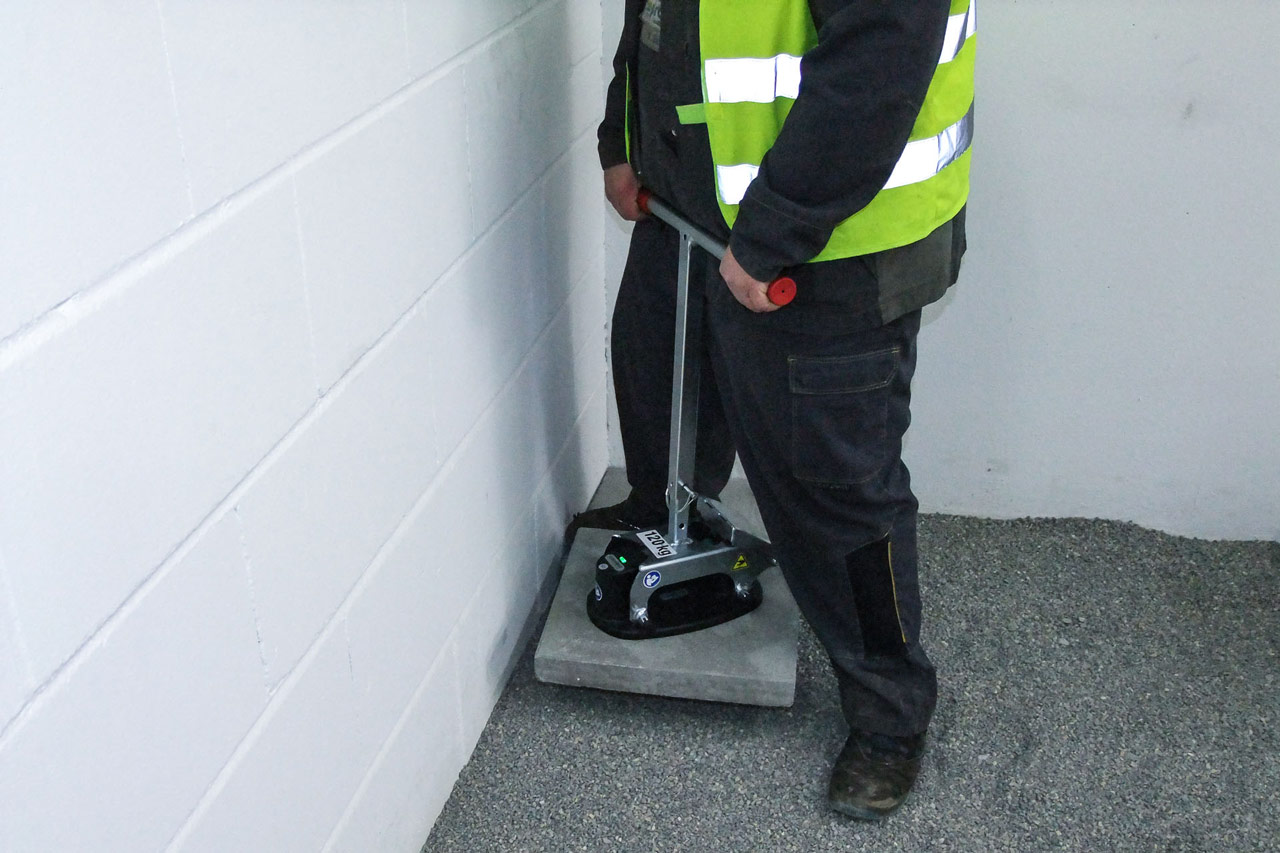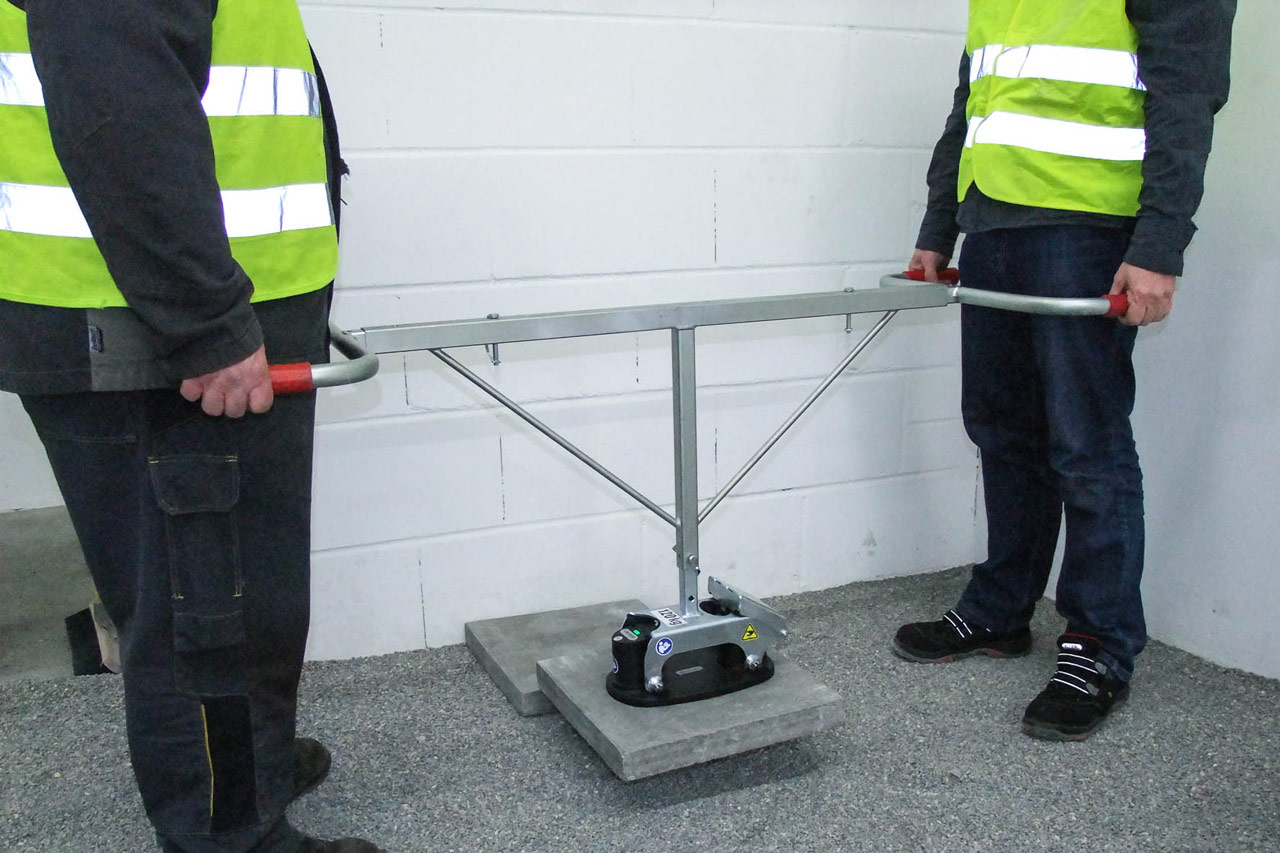 FXAH-120 SOLO Handle Set - Handle Carrying Handle with adaptor for one person operation - Probst Part Number 48500055
FXAH-120 DUO Handle Set - Handle Carrying Handle with adaptor for two person operation - Probst Part Number 48500054
Spare Batteries and Spare Seals are readably available. A replacement battery charger is also available if required.

Main features of the Probst FXAH 120 Greenline Pro Lifter
Part Number 58500010
14.8v DC 2600m Ah Li-ion battery - 16W power rating
Battery charge time 2 hours
Non stop running time after full charge 1.5 hours
Running cycles after full charge 900 on / off cycles of 10 seconds
Stand by mode 30 days
| | | | | |
| --- | --- | --- | --- | --- |
| Model | SWL | Dimensions | Battery Capacity | Weight |
| FXAH 120 Pro 58500014 | 120Kgs | 300 x 184mm x 121mm | 14.8v DC 2600m Ah Li-ion | 1.5Kgs |
The table below offers a suggestion of the maximum lifting / adhesion force for a selection of standard materials - Please note, these values are examples only, it is dependant on the exact material and surface condition. Max Lifting Force Table

| | | | |
| --- | --- | --- | --- |
| Material | Perpendicular Hold | Parallel Hold | P / P Ratio |
| Glass | 170Kgs | 120Kgs | 0.7 |
| Metal | 110Kgs | 110kgs | 1 |
| Plastic | 100Kgs | 100Kgs | 1 |
| Wood | 100Kgs | 65Kgs | 0.65 |
| Ceramic Tile | 170Kgs | 120Kgs | 0.7 |
| Rough Concrete | 80Kgs | 80Kgs | 1 |
| Dry Wall | 75Kgs | 65Kgs | 0.87 |
| Rough Slate | 80Kgs | 80Kgs | 1 |
Dimensions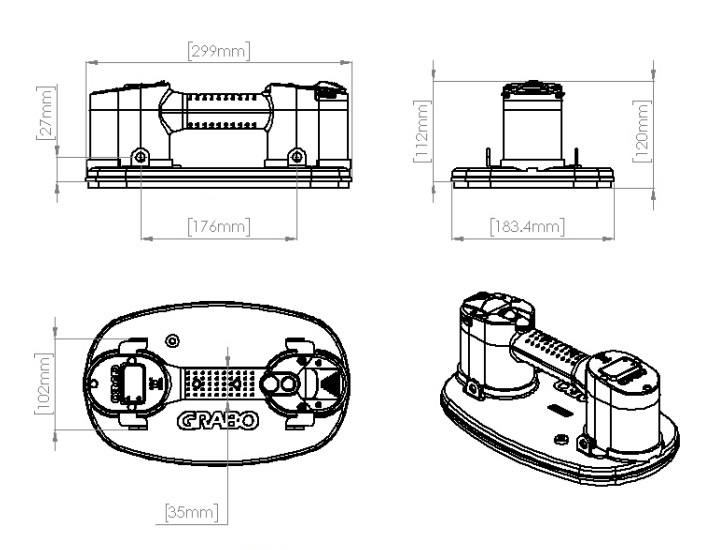 About Grabo by Nemo Power Tools
Grabo® was invented and developed by Nemo Power Tools Limited, a leading developer of various premium power tools for professionals in multiple industries.

Nemo Power Tools have developed a wide range of power tools and accessories. Our first line of products included cordless waterproof tools for the commercial diving and offshore drilling industry, scuba diving lights, lasers and other marine rated equipment.

The Grabo is a patented and revolutionary new tool which was launched in 2019 and has fast become a highly popular solution to lifting and handling a huge range of materials in many different industries across 45 countries.

More products from category:
Lifting Accessories
View all
SUBSCRIBE FOR THE LATEST NEWS & SPECIAL OFFERS
Sign up here to get the latest news, updates and special offers delivered to your inbox.
Sign Up