Grabo Plus Battery Vacuum Lifter












Key notes for ordering:
IN STOCK - Order before 1.30pm for same day dispatch - Supplied with everything needed including one battery and carry case
Estimated lead time:1 Day
Please call us if you need this item sooner
CLICK
& COLLECT
Next day
delivery
SAME DAY
DELIVERY
(Call us)
Seen this product cheaper elsewhere?
We will always try to offer this product at the best price. We will do our best to not just match it but to beat it.
Price match
promise
Grabo Plus Battery Vacuum Lifter
Brand:
Description
The Grabo Vacuum lifter. Securely lifts almost any surface with ease. Rough, porous and wet surfaces! lift, transport and lay all types of porous materials concrete slabs, natural stones, tiles and the absorbent building materials

£169.97 ex VAT
£203.96 inc VAT
We offer two Carrying Handles to fit this device that are back friendly and efficient - the solo and Duo
The World's First Portable battery operated Vacuum Grabber now available in the UK! and will lift up to 170Kgs
The GRABO will revolutionise the operators working life – it's like having the perfect temporary fixing handle when you need it! The world's first portable battery vacuum lifter, the Grabo is capable of picking up a huge range of objects, both porous and non porous objects such as glass, smooth tile, rough tile, concrete, garden slabs, plywood, timber, Gyprock, even diamond pattern steel.
So whether you're installing windows or doors, to moving furniture and boxes, it is a perfect lifting aid to any landscaper or tiler to help lift and transport heavy tiles and patio slabs.
Looking for those edges of those large Gyprock or plywood boards? Or are you still using your bare hands for those flooring jobs like fixing tiles and laying garden slabs? This small lightweight vacuum lifter with a weight of just 1.5 kg but has the strength to hold up to 120 kg and can instantly connect to almost any surface rough, smooth, dry or damp. This means the Nemo Grabber makes it easy to pick up, transport and place different objects such as furniture, plywood, tile, slabs and much, much more.

| | | | | |
| --- | --- | --- | --- | --- |
| Model | SWL | Dimensions | Battery Capacity | Weight |
| Grabo Plus | 170Kgs | 300 x 180mm | 2.2 Ah | 1.5Kgs |
What's in the box - One Vacuum Lifter, soft carry bag with zip and internal pockets for spare parts, multi voltage charger (110v & 240v) , One lithium-Ion battery
Spare Batteries and Spare Seals are readably available. A replacement battery charger is also available if required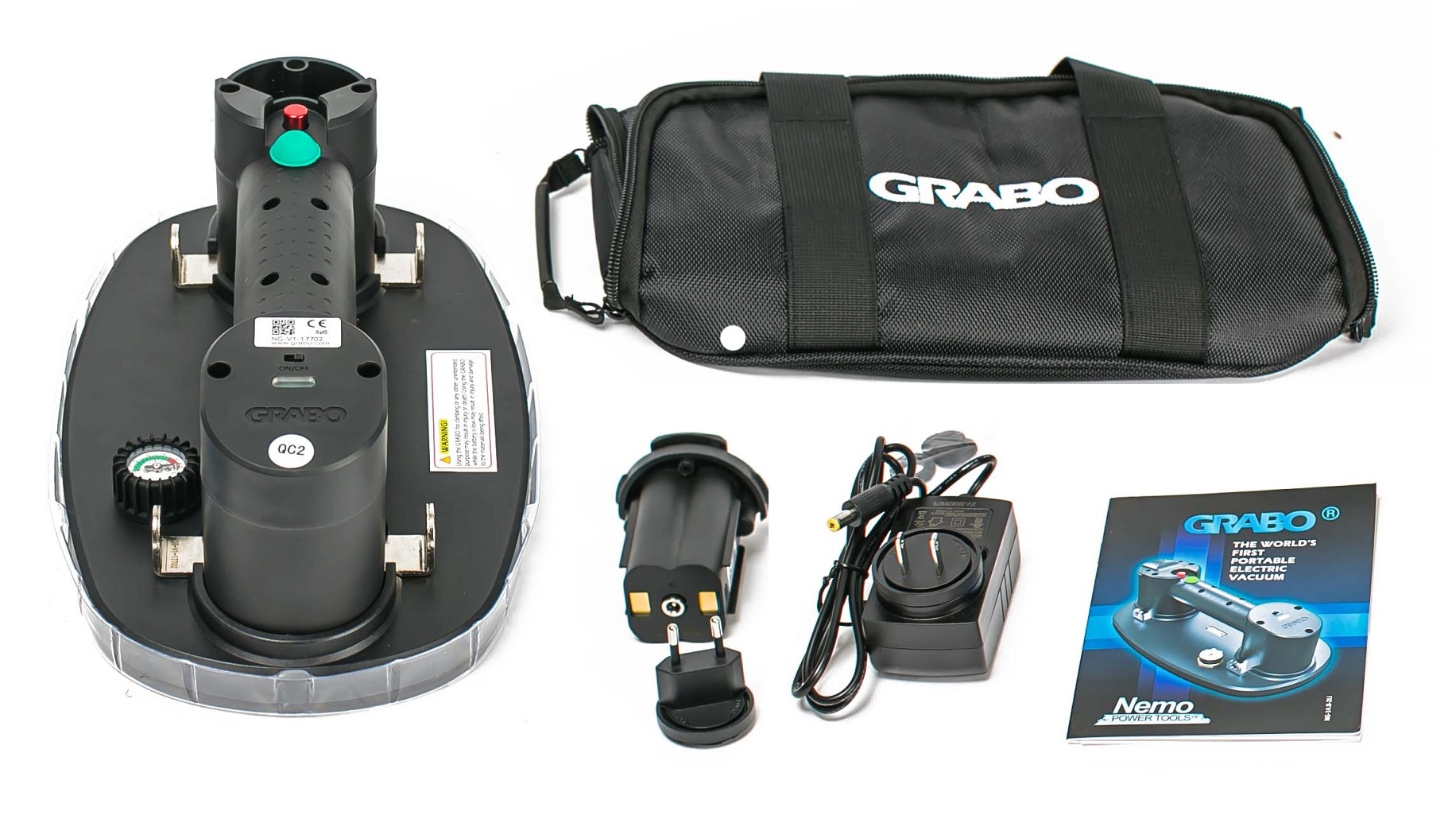 It is a battery powered vacuum lifter that basically picks up a huge range of site materials from drywall, exterior building panels, tombstones, patterned slates / floor panels, textured glass and granite to concrete, patterned steel, wood and will even grab to rough, porous and wet surfaces
Accessories available - Carrying Handling to suit the GRABO Battery powered vacuum lifter, idea for landscapers and tilers who are constantly bending over or working on knees

The Solo and Duo (single person or two person handles) - Both have three height positions to suit the operators own height - Once fitted to the Grabo Vacuum lifter the carrying handles eliminated the user from having to work on his knees or to constantly bend over to lift slab up. great for those bigger jobs or heavier loads, by stopping the constant bending over or working on knees.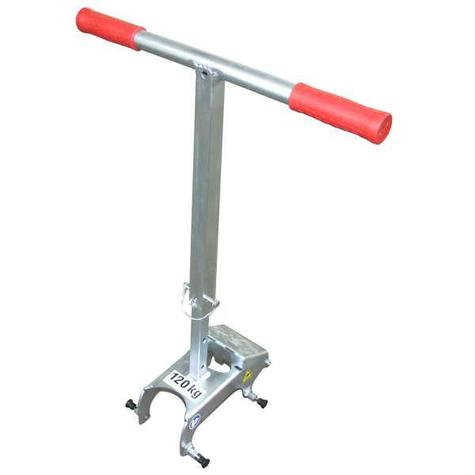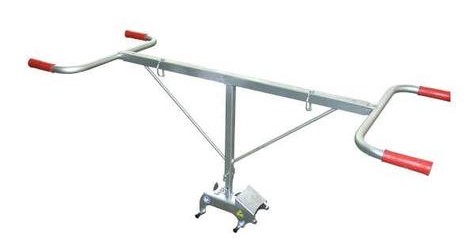 By attaching a carrying handle the operator will be working in a body friendly position either alone or in pairs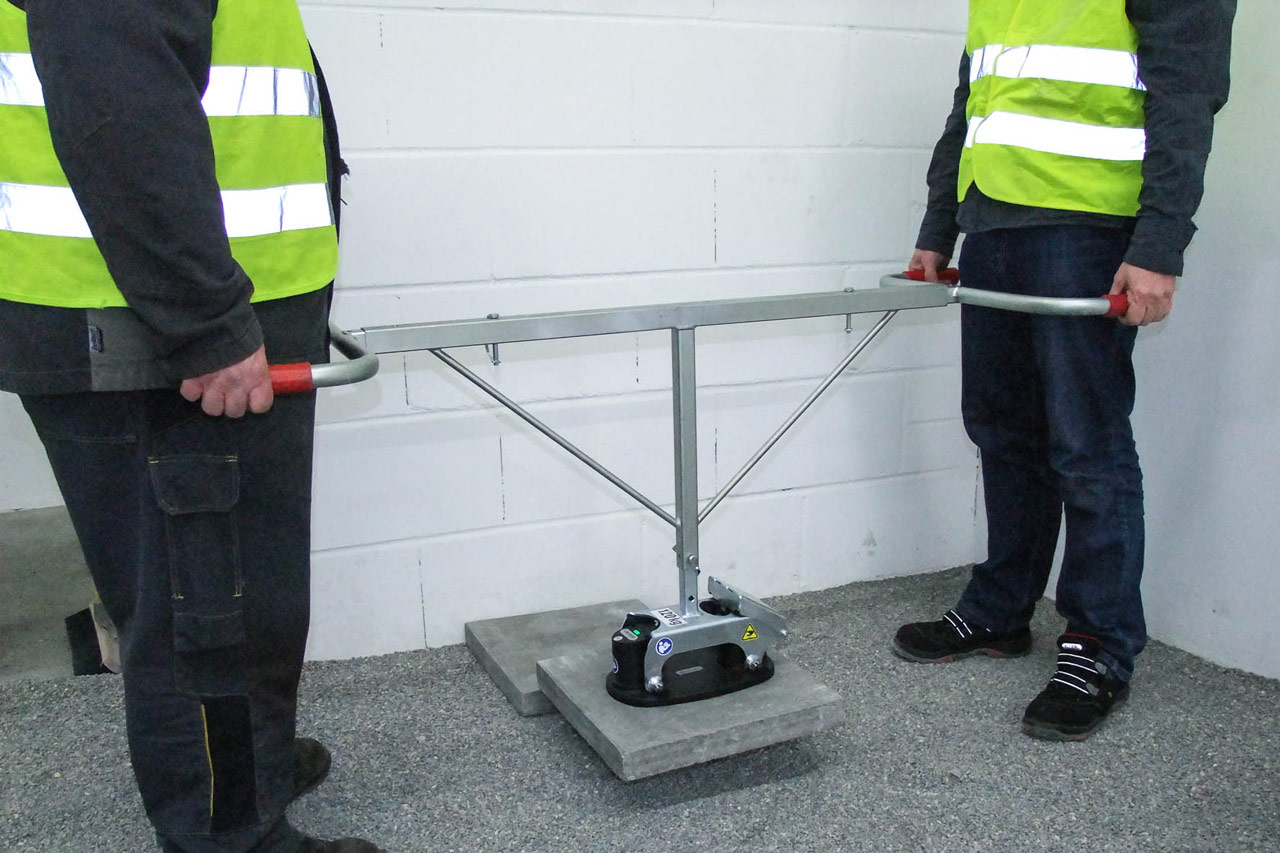 The GRABO® makes it easier to handle and transport many construction materials, and actually reduces strain fingers and back.
Simple to use - Place the Grabo lifter on top the slab or tile to be lifted, switch it on and the Grabo will create a vacuum and will become securely fixed to the surface without the need of any downward pressure from the user - to release the lifter from the object, just position the slab where required and press the red off switch to release the suction.

Powered by rechargeable 14.8 v Lithium - ion battery - Battery life is approx. 1.5 to 2hours continuous operation.

Grabo will lift many surface types, including wet, dusty, riven or porous materials

Perfect for paving slabs, tiling materials, worktops, plasterboard, drywall panelling, glazing, appliances, etc.
Keeps your hands out of glue, primer and adhesive on the reverse of paving, tiles or cladding
Less strain on your fingers and back due to ergonomic handle
Can lift up to 170kg perpendicular hold - based on Glass
Pressure gauge provides visual grip level indication
Two rechargeable Li-ion batteries supplied as standard for all day use
The GRABO® Plus comes in a zipped fabric bag with internal pockets
Includes spare seal, filter, two batteries and charger
| | | | | |
| --- | --- | --- | --- | --- |
| Model | SWL | Dimensions | Battery Capacity | Weight |
| Grabo Plus | 170Kgs | 300 x 180mm | 2.2 Ah | 1.5Kgs |
Max Lifting Force Table
The table shown below offers a suggestion of the maximum lifting / adhesion force for a selection of various materials - Please note, these values may vary , it is dependant on the exact material and surface condition.
| | | | |
| --- | --- | --- | --- |
| Material | Perpendicular Hold | Parallel Hold | P / P Ratio |
| Glass | 170Kgs | 120Kgs | 0.7 |
| Metal | 110Kgs | 110kgs | 1 |
| Plastic | 100Kgs | 100Kgs | 1 |
| Wood | 100Kgs | 65Kgs | 0.65 |
| Ceramic Tile | 170Kgs | 120Kgs | 0.7 |
| Rough Concrete | 80Kgs | 80Kgs | 1 |
| Plasterboard | 75Kgs | 65Kgs | 0.87 |
| Rough Slate | 80Kgs | 80Kgs | 1 |
Dimensions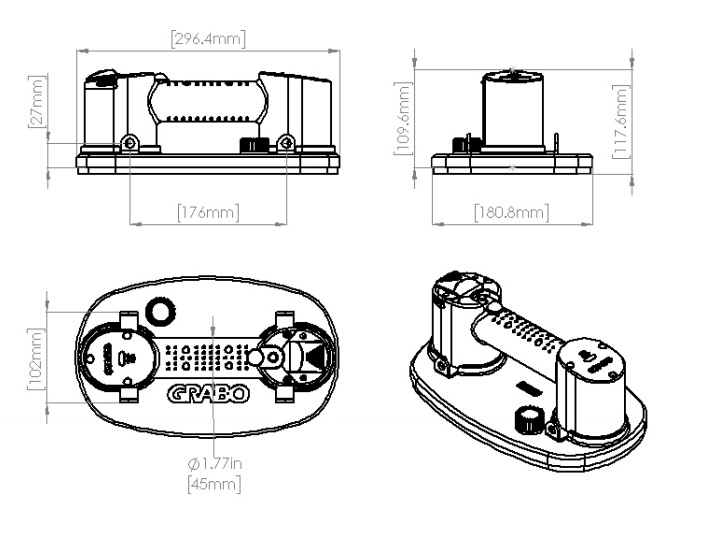 About Grabo by Nemo Power Tools
Grabo® was invented and developed by Nemo Power Tools Limited, a leading developer of various premium power tools for professionals in multiple industries.

Nemo Power Tools have developed a wide range of power tools and accessories. Our first line of products included cordless waterproof tools for the commercial diving and offshore drilling industry, scuba diving lights, lasers and other marine rated equipment.

The Grabo is a patented and revolutionary new tool which was launched in 2019 and has fast become a highly popular solution to lifting and handling a huge range of materials in many different industries across 45 countries.

More products from category:
Forklift & Lifting Attachments
View all
SUBSCRIBE FOR THE LATEST NEWS & SPECIAL OFFERS
Sign up here to get the latest news, updates and special offers delivered to your inbox.
Sign Up