Eichinger Safety Restraint Net



Key notes for ordering:
Will fit Eichinger Block Grab BG1083 & Crane Forks 1056
Estimated lead time:1 to 2 Days
Please call us if you need this item sooner
CLICK
& COLLECT
Next day
delivery
SAME DAY
DELIVERY
(Call us)
Seen this product cheaper elsewhere?
We will always try to offer this product at the best price. We will do our best to not just match it but to beat it.
Price match
promise
Eichinger Safety Restraint Net
Brand:

Description
Good quality safety restraint net that has been designed for use with the Eichinger Block Grabs and Crane Forks.
£124.98 ex VAT
£149.98 inc VAT
Related products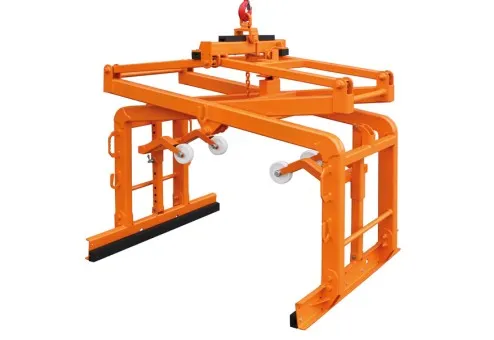 Block Grab with Rubber Pads
BG 1083
These quality manufactured Scissor action block grabs designed with personnel safety in mind are commonly used to lift palletized brick or slab or concrete produce such as kerb stones, paving stones, slabs, steel strapped bricks, etc - The Rubber lined pads help minimize damage to loads and reduce marking or breakages

£2,048.98 ex VAT
£2,458.78 inc VAT
The CS0003 Safety Restraint Net is a high-quality restraint net designed with the Eichinger Block Grabs and Crane Forks in mind. Once fitted, the Eichinger Safety Net will restrain the attached load. Make sure the net is gathered as tight as possible around the lifted load to maximise effectiveness.
Why use our restraint net - The net should be used on Block Grabs and Crane forks when lifting a load around a construction site - The net is there to safeguard against anything becoming loose from the pallet or load being lifted and prevents the loose material from crashing to the ground - These nets are not lifting nets, they are solely used as fall prevention.
| | | | | |
| --- | --- | --- | --- | --- |
| Model | Height | Width | Length | Weight |
| CS0003 | 1600mm | 1500mm | 1500mm | 5Kgs |
The Height is based on the hanging height once fitted onto the block grabs or Crane Forks.
Eichinger Safety Restraint Net CS0003
The net is designed to restrain the load on the equipment and must be gathered as tight as possible around the lifted load to maximize effectiveness. The net is not designed to catch a falling load.
| | | | | |
| --- | --- | --- | --- | --- |
| Model | Height | Width | Length | Weight |
| CS0003 | 1600mm | 1500mm | 1500mm | 5Kgs |
Eichinger is a quality brand with a history that dates back to 1904 and have been producing building, concrete and cement equipment since 1946
There build quality speaks for itself, they do not compromise on quality to achieve profit margin, that's why an increasing number of companies are turning to Eichinger to supply equipment for their fleet, understanding product quality allows them to reduce maintenance costs and increase the equipment life cycle.

Many companies have chosen to adopt a 'clean fleet' policy to ensure consistency and transparency within their fleets. Eichinger manufacturers everything in house, we do not have a string of fabricators supplying slightly different designs of the same equipment, this way you know what you're getting and you know it will be good to get the job done.

More products from category:
Forklift & Lifting Attachments
View all
SUBSCRIBE FOR THE LATEST NEWS & SPECIAL OFFERS
Sign up here to get the latest news, updates and special offers delivered to your inbox.
Sign Up