Screeding Finisher - Probst MINIPLAN MP70






Estimated lead time:1 Day - Order by noon for next day delivery
Please call us if you need this item sooner
CLICK
& COLLECT
Next day
delivery
SAME DAY
DELIVERY
(Call us)
Seen this product cheaper elsewhere?
We will always try to offer this product at the best price. We will do our best to not just match it but to beat it.
Price match
promise
Screeding Finisher - Probst MINIPLAN MP70
Brand:

Description
Probst MP-70 Screeding Finisher is a Screeding Finisher Tool (MINIPLAN MP) by Probst. Small, handy tool used to finish off and great for reworking screeded areas. covering screed rail marks, footprints, or tidying up around drains.

£71.00 ex VAT
£67.98 ex VAT
£81.58 inc VAT
Can be used along side the Probst Screeding Rails and EP-UNI screedding kits
Related products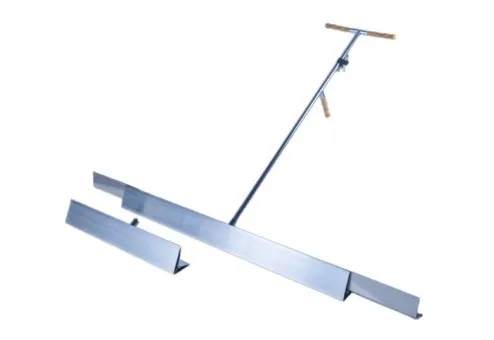 Probst EP-UNI Hand Screeding System
Probst Easyplan EP
The Probst EP-UNI Hand Screeding System EASYPLAN is a one-person Screeding Kit that is a useful hand tool system that can screed different working widths and is great for small and medium-sized sites. Designed to help the user create a perfect consistent level over the full continuous length being worked. A great addition to any Block Pavers toolbox.

£570.00 ex VAT
£514.99 ex VAT
£617.99 inc VAT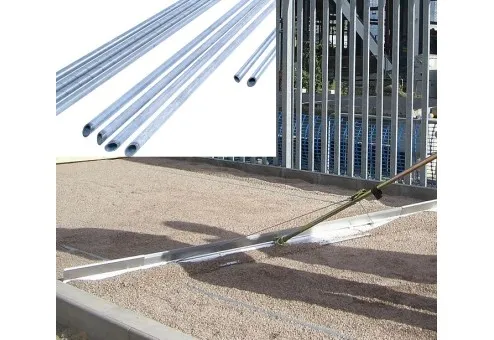 Probst AZL-EP Screeding Rail Set
Probst AZL-EP
Probst AZL-EP Screeding Rail Set is a lightweight set of screeding side rails to aid the setting of a consistent and accurate level for screeding materials. giving a perfectly level professional finish to block paving, concrete blocks, or slabs. PLEASE NOTE? Only the rails are supplied in this kit.
£205.00 ex VAT
£184.99 ex VAT
£221.99 inc VAT
Probst MP-70 Screeding Finisher is a Screeding Finisher Tool (MINIPLAN MP) by Probst. This small and handy tool has been designed to help "finish off" or help with reworking the screeded area to leave that perfectly flat area ready for the block paving or slabs to be laid. Can also be used to quickly level out small areas where the larger screeding kits would not be practical, or along edges or finish off around drains etc.
The lightweight sliding finisher is fitted with a wooden handle and a 700mm long aluminium curved profile edge that can be used to distribute freshly laid material and screed. But this smaller screeding tool can also be used to re-work any small area that the larger EP UNI Hand Screeding system (Probst Part Number 51000040 or 5100041). The curved design allows the operator to decide if he wants to dig in deeper to move more material around or just use the tip to float on the top for final finishing work.
| | | | | |
| --- | --- | --- | --- | --- |
| Model | Description | Probst Part Number | Working Width | Weight |
| MP-70 | Sliding Finisher 700mm | 51010004 | 700 mm | 1.7 Kgs |
| HV - MP | Height Adjuster Tool | 41010039 | 45 - 170mm | 0.8 Kgs |
Why Use the Probst MP70 Screeding Finisher Handle - Idea for small reworking areas and subsequent connections to the bedding. Perfect for use around drains. The MP-70 is an easy-to-use tool that allows the user to simply and effortlessly flatten off any screeded area, and use the sliding finisher to level out sand, screed or any other light material. Cover footprints, and clean up screeding rails that have been used for larger sites. This smart addition to your screeding kit can also help screed large areas quickly even around gully's with different levels.
The MP70 Sliding Finisher has a hollow profile making it both extremely light yet robust. The wooden handle fits snuggly in place via screws.
Optional Accessory
Probst HV-MP Height Adjuster. This Clever attachment simply attaches to the aluminium curved profile ( can be used on either the left-hand side or right-hand side). The perfect height can now be set when used off edge or kerb stone or small wall. any height can be achieved from 45mm deep to 170mm deep.
Main features for the Probst MINIPLAN MP Sliding Finisher, commonly known as a Screeding finisher.
Probst Part Number 51010004 - Probst MP-70 Screeding Finisher.
| | | | | |
| --- | --- | --- | --- | --- |
| Model | Description | Probst Part Number | Working Width | Weight |
| MP-70 | Sliding Finisher 700mm | 51010004 | 700 mm | 1.7 Kgs |
| HV - MP | Height Adjuster Tool | 41010039 | 45 - 170mm | 0.8 Kgs |
MP70 700mm wide. (MP30 is also available 300mm wide)
Aluminium Hollow Profile.
Very Light yet robust design.
Sturdy Holder for the handle.
Perfect to distribute material, screed, minor adjustments
Probst - Making hard work easier !!!!
For over 60 years Probst have been manufacturing tools and equipment that have made everyday life on the construction site easier. Thanks to many important ergonomic and efficiency-enhancing innovations, Probst Material Handling today are the world market leader and define the handling of construction materials on sites and in concrete plants.
The headquarters are in Erdmannhausen (Germany), the Competence Centre Robot Production in Könitz (Germany),as well as at our five subsidiaries in Great Britain, France, Italy, Poland and the USA, find the optimal solution for our customers every day. We are present worldwide with over 450 sales partners. Since 2020, the entire corporate group has been climate-neutral.
Whether in structural or civil engineering, whether in the garden or on the street: Probst products are at home on all construction sites. there machines and tools make life easier for everyone who works with paving stones, pipes and other concrete products. WHY - Because they put efficiency and ergonomics first, and have become the world market leader in the field of gripping and laying technology through numerous innovations.
More products from category:
Workplace Equipment
View all
SUBSCRIBE FOR THE LATEST NEWS & SPECIAL OFFERS
Sign up here to get the latest news, updates and special offers delivered to your inbox.
Sign Up