Black Friday Deals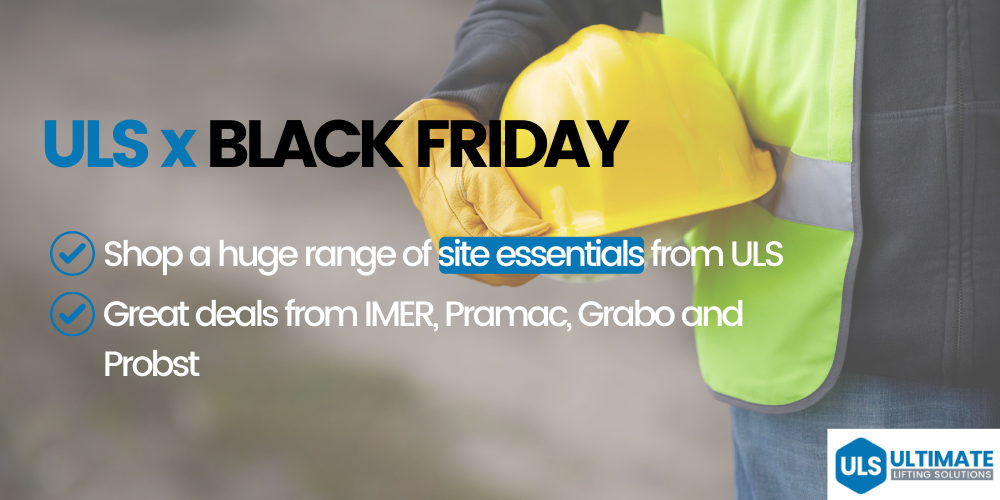 Ultimate Lifting Solutions Limited are excited to offer some great deals in the 2021 Black Friday event.
IMER Scaffold Hoist
Starting with our very popular scaffold hoists by IMER – The ES150 IMER Scaffold Hoist is a quality European manufactured hoist perfect for fixing to scaffold tubes to create a fast and safe method to raise and lower goods to the desired level. The swivel bracket that the hoist is attached to rotates fully which helps with the loading and unloading of building materials. To compliment the Black Friday deal on the ES150 Scaffold winch we are also offering a discount on the IMER Tipping Buckets, this great scaffold hoist accessory has a central lifting eye that fits easily onto the scaffold hoist winch rope, now the operator can lift and lower materials quickly due to the fast 18.5m per minute lifting speed of the IMER ES150 Site Hoist.
Tipping Skips
Staying on the building site, why not look at the ULS range of tipping skips and for the 2021 black Friday event Ultimate Lifting Solutions are offering discounts on the very popular FLTS 2013 Tipping Skips range. Our Tipping Skips start with the compact and easy to manoeuvre 500 Litre size, these are great for small yards or to keep next to a bench. ULS also offer a 750 Litre Skipping skip and the most popular size 1200Litre Forklift Tipping Skip. The largest skip we stock ready for dispatch is the 1500Litre tipping skip. These quality tipping skips are also available with castors and are sold as standard with a fixed heel pin and "tear-drop" safety catch to ensure the skip does not slide off the forklift forks while being transported.
Pramac
Ultimate Lifting Solutions have been selling the Pramac material handling equipment for a long time and working in conjunction with Pramac UK we are delighted to be offering the standard GS Hand Pallet Truck at a great price this week, these quality build, hydraulic pallet trucks have been upgraded with a better pump system to offer an even better performing pallet truck. If you want to move away from push pull pallet trucks, why not look at the Pramac Agile Plus semi-automatic Pallet Truck, This battery powered pallet truck is the first innovative motorized pallet truck with two motor wheels offering better traction and stability. In modern environments the Agile Plus motorized pallet truck is becoming very popular for its speed and agiity.
Grabo
Another innovative product from the ULSLIFTING range is the GRABO Battery operated vacuum lifters, there are two available and both being offered at great prices this November. The Grabo Plus Lifter has been around for a few years now and has become must have tool for tilers and landscapers a like. These clever handheld vacuum lifters can stick to nearly all surfaces including wood, concrete, metal, plasterboard and even white goods such as fridge freezes and many many more, supplied in a quality carry bag with pockets to store the battery charger and other spares such as a rechargeable battery. In the summer of 2021, the latest battery-operated vacuum lifter was launched. The all new Grabo Pro now has a digital display to help the operator see how much lifting capacity is available, but the cleverest part of the Grabo Pro is the automatic switch on / off device fitted internally. The operator can have total peace of mind that the item being lifted and transported via the Grabo Pro will not slip of fall. If you need more information on the Grabo Plus Battery Lifter or the all new Grabo Pro Vacuum Lifter, give one of our sales team a call today on 01384 986 026.
Fall Arrest
Ultimate Lifting Solutions has been a proud stockist of the Fall@rrest brand of safety harnesses and associated products. Two of our very popular products are in the black Friday deals this year. The first is the scaffolders harness kit, comprising of a quality 2-point harness and a shock absorbing lanyard with scaffold hook to easily attach onto any scaffold tubes. This great scaffolder's harness kit is supplied in a bag to keep everything together in one place, so its easy to find when needed. To help people choose the correct harness and lanyard combination ULS lifting offer various harness kits supplied with the correct equipment for the correct job, another kit in the Black Friday deal is the FALL@RREST MEWP Safety Harness Kit, this kit is a perfect solution for anybody that needs to harness kit when using Mobile Elevating Work Platforms or similar. Supplied with a Two Point Safety Harness and adjustable lanyard with scaffold hook to easily attach to an anchorage point.
Block Paving Tools
Something for the Landscapers and Block Pavers – Ultimate lifting solutions supply a huge range of screeding equipment perfect in helping create that professional finish faster and easier on the team, therefore the latest black Friday by ULSLIFTING, includes top products from the ULS Block paving and Landscaping Equipment range. Firstly we have on offer the Probst AZL-EP Screeding Rail sets, two pack sizes available, the 13m kit comprises of 6 rails at various lengths and the 25m set that comes with 10 rails for those larger projects, these screeding rails kits make light work of creating that flat surface ready for the block paving or slabs to be laid, to compliment the screeding rails ULS also supply the Probst Hand Screeding systems which glide effortlessly over the Probst Rails, gone are the days of two men and a plank of wood to create a flat area, the EP-UNI Screeding system can be used by one person to quickly create the flat surface, the time saved by using the combination of the Hand Screeding System with the Screeding rails will help your company be more competitive with your prices and the quicker you finish this job, the faster you can start the next. Once your area is all screeded and ready for the block paving, while not use the Probst STS-33-F Block cutter, these manual stone splitters offers the perfect solution to splitting both paving blocks, slabs and similar concrete products. The biggest advantages of using a manual paver stone cutter over a disc cutter of Stihl Saw is no noise pollution, start as early as you like and finish as late as you can, the next plus point is hardly any dust is created when using a manual block cutter, and the dust and debris is kept in a small area under the stone splitter and not all over the house windows or even neighbours washing. Spare bladed are available so the Probst Stone Splitter will last you for years.
Landscaping Tools
For the Landscapers – Probst offer many items to aid lifting and transporting landscaping products and Ultimate Lifting Solutions are a top distributor for Probst Handling Equipment, from a simple VH1 Vacuum Handy lifter to quickly lifting and moving slabs into place all the way up to the SM600 Vacuum Stone magnet. On most building sites, Kerbstones need to be laid correctly and quickly, Probst offer the VZ1 Kerbstone Laying clamp to aid this process, this two man kerbstone lifter with a angular support on one side which helps in the final positioning against the last kerbstone already in place, this gives a very narrow joint between kerbstones and leaves a professional straight line of kerbstones.
Slab Lifters
The most popular item from the whole Probst range is the forever essential Probst VPH150 Vacuum Handy Slab Lifter, this battery powered slab lifter has been an industry number one tool for many years for lifting and transporting large slabs and kerbstones that are manufactured from both concrete or granite. The rechargeable battery will easily last all day long and will speed up any laying of slabs up to 150kgs in weight. Over the years Probst have sold 1000s of the VPH150 slab lifter and ULS Lifting offer all spare parts for the VPH150 from a replacement VPH150 battery or VPH150 battery charger to replacement VPH150 Vacuum Lifter seals. We can even supply replacement handles and battery covers, if you need any spares for the Probst VPH150 vacuum slab lifter then give ULS Lifting a call today on 01384 986 026.
Black Friday deals are running at the end of November, so it is advisable to be quick to snap up that deal. Even after the deals have finished, Ultimate Lifting Solutions always have key products on sale or on special deals – Feel free to contact us to discuss your requirements – we'll always help you with a deal to help your business stay on top.