1000Kgs SWL Column Mounted Jib Cranes - Under-Braced




Estimated lead time:Manufactured in UK to Order Approx. 2 - 3 Weeks Delivery
Please call us if you need this item sooner
CLICK
& COLLECT
Next day
delivery
SAME DAY
DELIVERY
(Call us)
Seen this product cheaper elsewhere?
We will always try to offer this product at the best price. We will do our best to not just match it but to beat it.
Price match
promise
1000Kgs SWL Column Mounted Jib Cranes - Under-Braced
Brand:

Capacity
1000Kgs (1 tonne)
Description
1000Kgs SWL Column Mounted Jib Cranes - Under-Braced style. Manufactured in the UK. Designed for height-restricted areas. Jib Arm can be manufactured to any length between 2m-6m and slew through 180° giving a very wide working area.
£1,024.98 ex VAT
£1,229.98 inc VAT
Please contact our sales team if the following extras are required:

1 - Adjustable Slew Limits
2 - Slewing Lock
3 - Installation
ULS Lifting Solutions are pleased to offer our UK-manufactured and fully certified range of 1000Kgs SWL Column Mounted Jib Cranes Under-Braced version that is an Ideal solution for use within a factory or workshop, The Jib can be bolted or welded directly to the structural steelwork, pillars or stanchions. By manufacturing the clamp around the swing Jib arm from I-Beam steel enables the strengthening to be engineered under the Jib Arm thus creating a more compact Jib that can be used in areas that may be restricted by height.
Another great selling point to the Under-Braced Swing Jib Arm enable the use of an electric hoist complete with a powered trolley to assist the movement of the load along the beam, idea if the Jib arm is being used over a tank or raised floor area. The arm is designed to have either a manual or powered trolley, making it even more simple for connecting to your hoist, spring balancer, or vacuum lifter.

Supplied in a two-part kit, the main slewing arm which the hoist will fit onto, and a pair of brackets that will clamp around the pillar or column. The two parts are connected using the supplied king pivot pin. The arm can be manufactured to any length between 2m and 6m and the arm is designed to slew through 180° giving a very wide working area.
Please note - Anti-Slip measures must be taken to ensure the Jib Arm does not slip or move down the column once fitted. Ultimate Lifting Solutions can advise or can Install all types of Jib cranes and Jib Arms.
Dimensions for 1,000Kgs Column Mounted under-braced Jib Cranes (for illustration only)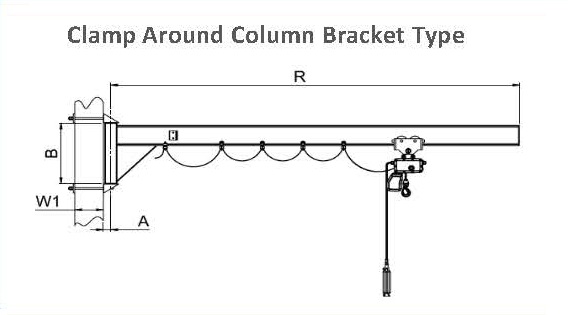 | | | | | | |
| --- | --- | --- | --- | --- | --- |
| Model | SWL | Arm Length (R) Radius of reach | Bracket Width | Arm Height (B) | Total Weight |
| UBCMJC1000R2 | 1,000Kgs | 2,000mm (2m) | 380mm | 600mm | 120Kg |
| UBCMJC1000R3 | 1,000Kgs | 3,000mm (3m) | 380mm | 900mm | 137Kgs |
| UBCMJC1000R4 | 1,000Kgs | 4,000mm (4m) | 380mm | 1,000mm | 216Kgs |
| UBCMJC1000R5 | 1,000Kgs | 5,000mm (5m) | 380mm | 1,400mm | 302Kgs |
| UBCMJC1000R6 | 1,000Kgs | 6,000mm (6m) | 380mm | 1,500mm | 432Kgs |
All Under Braced Column Mounted Jib Cranes supplied by Ultimate Lifting Solutions Limited are supplied with Duty Classification A3 according to BS733: 1990
All Column Mounted Jib Cranes with under bracing supplied by Ultimate Lifting Solutions Limited are supplied fully tested & Certified.
The paint Finish is a high-quality Yellow Powder Coat to RAL1004 - other colours are available on request.
Galvanised Column Mounted Jib Arms and Stainless Steel Column Mounted Jib Arms are available on request.
Why Choose an Under-Braced Column Mounted Jib Crane?

There are many advantages in purchasing a clamp around 1000Kgs SWL Column Mounted Jib Cranes - Under-Braced version, they are extremely versatile within the factory, speeding up the lifting and moving of components off presses or work benches, loading or unloading lorries. Lifting heavy objects such as granite, timber, or steel. Manufactured with an I-Beam enable this style of swing Jib arm to be used with either push travel or motorized travelling trolley
Column Jib cranes are made up of two main parts, the arm and set of brackets to attach to existing steelwork, therefore these simple manual jib cranes do not have many parts to maintain, making them extremely reliable, which in turn means they do not break down, so no loss in production time.
Easy to install
This Column Mounted Under-Braced swing crane simply just bolts to existing columns, pillars, stanchions, or any suitable structural steelwork, once you have checked your column is suitable for a jib crane, choose which one you require from the drop-down menus, we will arrange to manufacture the jib and dispatch it direct to site for your required delivery date. Then, when it is supplied to the site, The Jib just needs to be secured to the steelwork (Anti-slip measures must be taken to ensure that the jib crane can't slip down the support column) - We at Ultimate Lifting Solutions offer this service and can offer full installation by using our own highly trained engineers or just the commissioning/ load testing, we can offer a package to meet your requirements.
Because of the simple design, they are inexpensive to both buy and maintain compared to other cranes. Under normal working conditions, they will only need an industry standard 12 monthly service. We at Ultimate Lifting Solutions offer this service and can offer various maintenance/service packages to meet your requirements.
How do 1000Kgs SWL Column Mounted Jib Cranes - Under-Braced Version?
A standard column mountable swing Jib Arm as mentioned has two main parts - The Arm and mounting brackets. The arm can rotate from left to right and vice versa, the swing or slew angle is set at 180° as standard. On all our I-Beam style swing jib arms up to 1,000Kgs they will slew with ease without the requirements of powered assistance, hence keeping the costs down.
What else is required for 1000Kgs SWL Column Mounted Jib Cranes - Under-Braced?
You now have your Swing Jib fitted. You now need a hoist of some type or a vacuum lifter, Lifting Chains, or a spring/tool balancer, these fit easily to the Jib crane via a travelling trolley. You just need to decide what hoist you need. To keep the costs down a manual hoist is the cheapest option, but you will not save on production time, as they are slow and do need assistance by hand, and sometimes for larger items, you might not be able to reach the hoist chain. The second option and best option is an Electric Hoist, these hoists enable you to easily lift and lower your components quickly, cutting down on production time, and it will soon pay for itself in time saved.
Installation of 1000Kgs SWL Column Mounted Jib Cranes - Under-Braced.
As mentioned above, the Swing Jib Arm can be an easy install, once installed and the hoist fitted, all that is left is commissioning, testing, and signing off the Jib as safe to use. we are more than happy for all our customers to install themselves using the instructions supplied or find their own installation team. But, these days time is precious, do you have time to sort engineers and dates, etc, Let us save you time as we are also more than happy to offer our own engineers to take away this task. We can install the Jib, install the Hoist, commission, and test and we will not leave the site until everything is working correctly and safely.
Ask the Experts about Swing Jibs and Cranes
Ultimate Lifting Solutions, with over 40 years experience within both the crane industry and lifting gear industry are happy to assist with any questions with regards to Jib cranes and lifting gear. We want our customers to choose the correct kit for the correct job and the best price. So we are always available to answer questions and help design bespoke crane systems or discuss the lifting gear to hang off the crane or discuss the installation of the Jib Crane. Contact the Ultimate Lifting Solutions team today by telephone at 01384 986 026 or by email at sales@ulslifting.com
1000Kgs SWL Column Mounted Jib Cranes - Under-Braced
All our manufactured 1000Kgs SWL Column Mounted Jib Cranes - Under-Braced are
Duty classification: A3 according to BS 733: 1990
All jibs are lubrication free. The pivot bushes are acetal and therefore do not require lubrication.
Manual slewing operation.
Minimal maintenance requirement.
Clutch controlled slewing mechanism, can be tightened/loosened to control how freely the arm pivots.
Bases are fully welded to the column – in most situations, this removes the need for an oversized load spreading plate or setting an anchor frame into concrete, therefore making installation much quicker and more cost-effective.
Key Points of our UK manufactured 1000Kgs SWL Column Mounted Jib Cranes - Under-Braced
SWL - 1000kg (1 tonne).
Arm length - 2m up to 6m.
Slew Angle - 180-degree manual slew.
Trolley - Can be Fitted with a push travel trolley or powered trolley for suspending hoists, vacuum lifters, and tool balancers from.
Fast delivery - We aim to deliver all our Swing Jibs within 10 to 14 days
Optional extras
Adjustable slewing limits, To reduce the swing arc
Slewing lock, to fix the arm into a specific position
Electrical Isolator - required if the electric hoist is to be used in conjunction with the Jib Arm
Full Electric Kit - Our kit includes everything required to fun Electric Hoist (Isolator, Flatform Supply Cable, Cable Runners)
The kit can be supplied to enable the pin to be fitted from below.
1000Kgs SWL Column Mounted Jib Cranes - Under-Braced as a rule do not need much service or maintenance. Yet, general observations of the overall condition of the jib and the hoist connected to it can be carried out by the operator - any faults should be reported immediately
More importantly to keep the Jib and hoists running at maximum efficiency and to keep within the UK laws with regarding LOLER inspections set out by HSE, both the Jib and the hoist on it should have a maintenance service scheduled no later than 12 months. This service should be undertaken by qualified service engineers - If you would like to know more about the servicing and general maintenance, please feel free to contact us, we do have qualified engineers and are happy to quote for all your crane servicing requirements.
More products from category:
Lifting Equipment
View all
SUBSCRIBE FOR THE LATEST NEWS & SPECIAL OFFERS
Sign up here to get the latest news, updates and special offers delivered to your inbox.
Sign Up