L'Europea MP200 Scaffold Hoist - Floor Mounted






Key notes for ordering:
Base unit, transmission support, 80m cable and scaffold clamps all supplied as standard.
Estimated lead time:Please call for current lead time on this item. The DM200APP version is in stock currently
Please call us if you need this item sooner
CLICK
& COLLECT
Next day
delivery
SAME DAY
DELIVERY
(Call us)
Seen this product cheaper elsewhere?
We will always try to offer this product at the best price. We will do our best to not just match it but to beat it.
Price match
promise
L'Europea MP200 Scaffold Hoist - Floor Mounted
Brand:

Description
MP200 - 200Kgs Scaffold Hoist Unit is a modern alternative to a traditional hoist.
Mount this hoist at floor level - No more carrying hoists up the scaffolding & mounting at the highest point. 110 volt supply

£1,299.99 ex VAT
£1,559.99 inc VAT
Please call for current lead time on this item. The DM200APP version is in stock currently
Related products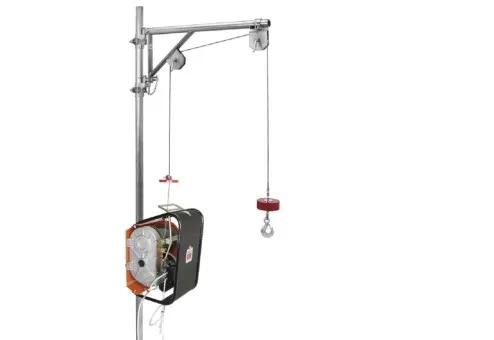 DM200APP Ground Mounted Scaffold Hoist
DM200APP
DM200APP - Is a 200Kgs Ground Mounted Scaffold Hoist Unit (110volt) c/w 60m wire rope and top mounting bracket - No more carrying a hoist up scaffolding & mounting at the highest point.
£1,444.94 ex VAT
£1,348.98 ex VAT
£1,618.78 inc VAT
The MP200 Floor Mounted Scaffold Hoist has been commonly used in Mainland Europe for years, but now for the first time, the MP200 Scaffold Hoist is available in 110v making it a very real alternative to the traditional electric scaffold hoist here in the UK.
Offering longer working lengths at up to 80 metres this hoist can handle loads up to 200 kg. The MP200 has unique features making it more efficient and safer to install, use and dismantle. Mount the hoist at ground level - Normally, a scaffold hoist would be carried up the scaffolding and mounted at the highest point possible to move the loads from the ground up and down levels as required.
Anyone who has ever handled a scaffold hoist will know that they are quite a handful, this is amplified when moving them up levels to where it's installation position. The scaffold hoist is then installed at the edge of a building or scaffold, sometimes as high as 40 metres. But no more - the MP200 can be mounted at the floor lever, and only the lightweight rope guide needs to be installed at a high level.
| | | | | | | | |
| --- | --- | --- | --- | --- | --- | --- | --- |
| Model | Motor Type | Voltage | Power | Max Capacity | Cable Length | Lifting Speed | Hoist Weight |
| MP200 | Single Phase | 110volt / 50Hz | 1000w | 200Kgs | 80m | 22m/min | 40Kgs |

Dimensions 400mm x 400mm x 550mm.
Hoist supplied fully tested in good working order.
Supplied with operating instructions and relevant conformity certificate.
According to national and international accident prevention and safety regulations hoisting equipment must be inspected:
• in accordance with the risk assessment of the operating company
• prior to initial operation
•before the unit is put into service again following a shut down / change of site
• after substantial changes
• however, at least once per year, by a competent person.
Please contact our Sales Team @ ULS if you require your annual servicing on this product or any similar products.
L'Europea is a globally recognized brand in the field of construction machinery, born from the experience of who knows the demands of hoisting machinery.
L'Europea range offer models starting from 200Kg up to 1600Kg, fixed directly to scaffoldings or in trestles, also with hoist operated from the ground or jib cranes; for each model is offered a lot of accessories or configurations.
The series of professional hoists are equipped with the innovative conical brake, the trust of our reducers and the price / quality ratio has turned into a leading European L'protagonist of the market.
L'Europea also offer hobby hoist for not professional work
More products from category:
Lifting Equipment
View all
SUBSCRIBE FOR THE LATEST NEWS & SPECIAL OFFERS
Sign up here to get the latest news, updates and special offers delivered to your inbox.
Sign Up