250Kgs SWL Free Standing Jib Crane - Under Braced




Key notes for ordering:
Many options available - talk to us if special requirements are required
Estimated lead time:Manufactured in UK to Order Approx. 3 - 4 Weeks Delivery
Please call us if you need this item sooner
CLICK
& COLLECT
Next day
delivery
SAME DAY
DELIVERY
(Call us)
Seen this product cheaper elsewhere?
We will always try to offer this product at the best price. We will do our best to not just match it but to beat it.
Price match
promise
250Kgs SWL Free Standing Jib Crane - Under Braced
Brand:

Description
ULS 250Kgs Freestanding Under Braced Jib cranes are manufactured in the UK. Designed for low height situations. Both the arm and column can be manufactured to any length between 2m-6m and the arm is designed to slew through 270° giving a very wide working area.
£1,095.48 ex VAT
£1,314.58 inc VAT
Please contact our sales team if the following extras are required:

1 - Adjustable Slew Limits
2 - Slewing Lock
3 - Installation
ULS Lifting Solutions are pleased to offer our UK manufactured and fully certified range of 250Kgs Capacity Freestanding Under-Braced Jib Cranes with a wide slewing angle 270°. All free standing Jib cranes supplied by ULS are manufactured to order and to your specific specification, yet our deliver times are only a few weeks from design through manufacturer to delivery. We also have our own installation team that can install both the Jib Crane and Hoist (if required) anywhere in the UK. We show the most common sizes here, feel free to call us or email if you require a bespoke Jib Crane or if you require a quote for installation.
Why choose an Under Braced Free Standing Jib Crane? Answer - It is all about the headroom.

ULS manufacture our under-braced jib cranes by utilising a Steel I-Beam as the swinging jib arm and add all the supporting bracing under this main crane arm. This design means the height required above the working height is kept to a absolute minimum creating a low headroom jib crane. A perfect solution where headroom is restricted due to various reasons such as the Jib crane being used inside a tool room, overhead restrictions such as lights or pipes or when restrictions such as roof height have to be considered.
DIMENSIONS FOR ILLUSTRATION ONLY - BASED ON 250KGS FREE STANDING OVER-BRACED SWING JIB WITH 3M OVERALL HEIGHT

| | | | | | | |
| --- | --- | --- | --- | --- | --- | --- |
| Model | SWL | Arm Length (Radius of reach) | Overall Height of Jib | Working Height Of Jib (underside of beam) | Base Size | Weight |
| UBFJC250R3 | 250Kgs | 3,000mm (3m) | 3,000mm (3m) | 2,710mm (2.71m) | 600 x 600mm | 259Kgs |
| UBFJC250R4 | 250Kgs | 4,000mm (4m) | 3,000mm (3m) | 2,650mm (2.65m) | 600 x 600mm | 383Kgs |
| UBFJC250R5 | 250Kgs | 5,000mm (5m) | 3,000mm (3m) | 2,650mm (2.65m) | 700 x 700mm | 444Kgs |
| UBFJC250R6 | 250Kgs | 6,000mm (6m) | 3,000mm (3m) | 2,650mm (2.65m) | 700 x 700mm | 529Kgs |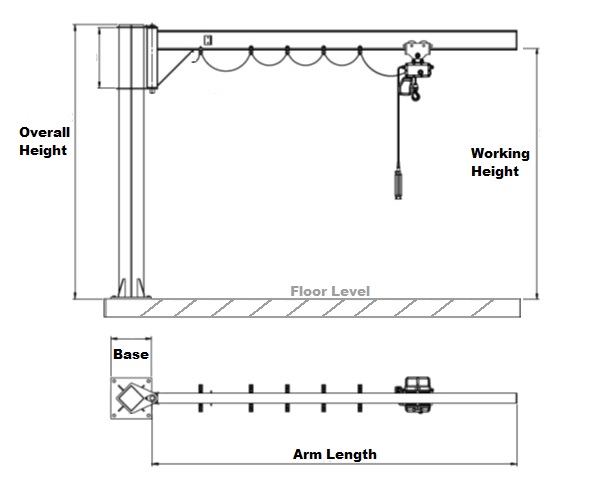 On this page you will find both information and a simple buy online process for our UK manufactured 250Kgs Underbraced Jib crane. We manufacturer all our Jib cranes to customer specification with both height and arm length to suit process requirements. Low Headroom Jib Cranes can be manufactured to any height starting from 2m up to 6m and the arm length can be supplied from 2m up to 6m long. If you need more assistance on choosing the correct Jib Crane or if you need choosing the correct height and arm length, please feel free to call our Jib Crane team today on 01384 986 026 who are happy to help with your low headroom Jib enquiry.

All Jib cranes supplied by Ultimate Lifting Solutions, including our Under-braced Jib cranes and Over-braced jib cranes are manufactured in the UK with as little as a 2-3 week delivery from design, manufacturer to dispatch (please check availability with us if delivery time is critical). Due to the simple design of our Jib cranes, we are able to supply and delivery all our jib cranes as a two-part kit usually dispatched on standard pallets. Part one is the jib arm and part two is the main jib pillar crane.

What else is required with the Underbraced Jib Crane?
ULS low height Jib Cranes can be supplied with either an Electric Hoist or Manual Hoist (search on the ULS website for 250Kgs SWL Free Standing Jib Crane c/w Electric Hoist - Under Braced and/or 250Kgs SWL Free Standing Jib Crane c/w Manual Hoist - Under Braced
Difference between Over braced profile track and trolley Jib crane to the Under-braced I Beam Jib Crane?

A Jib Crane manufactured from steel profile section has an internal push travel trolley and the bracing is manufactured above the working jib arm. an I Beam Under-braced Jib Crane is manufactured from a Steel I Beam with the bracing underneath. The Profile Jib Crane is Lighter and generally lower in cost, but they need more headroom and can only have a push trolley fitted. A underbraced Jib crane is great for low height situations and perfect if a powered trolley is going to be used with the crane.

Why Choose a Under Braced Free Standing Jib Crane?
There are many advantages in purchasing an under-braced free standing Jib Crane, the main benefit is the overall height is less than a standard free standing over braced jib crane, making them extremely versatile with in factory where you might be restricted due to the height of the building, or you need the Jib to be under pipes or lighting or inside a plant room or tool room. Another advantage with the I-Beam style Jib Crane is if you require to fit an electric hoist with powered travel, they fit neatly onto the Jib arm to give that powered travel.
Because of the simple design they are inexpensive to both buy and maintain compared to other cranes. under normal working conditions, they will only need an industry standard 12 monthly service. We at Ultimate Lifting Solutions offer this service and can offer various maintenance / service packages to meet your requirements.

What makes up a Underbraced Jib Crane?
I-Beam Jib cranes are made up of two main parts, the upright column and the horizontal Jib arm made from a steel I beam, therefore a manual free standing I beam jib crane does not have many parts to maintain, making them extremely reliable, need minimal maintenance, which in turn means they do not break down, so no loss in production time.

Easy to install
These Underbraced freestanding Swing Jibs, simply just bolt to the floor, once you have checked your floor is suitable for a swing jib crane, we work with you to design design, Ultimate Lifting Solutions Limited arrange to manufacture the jib, and then when it is supplied to site, the floor just needs to be drilled and the floor mounting plate secured - We at Ultimate Lifting Solutions Ltd can offer the full installation of both the Jib and hoist, by using our own highly trained engineers or if you want to install yourself we can just offer the commissioning/ load testing, we can offer a package to meet your requirements.
How do Swing Jib Crane work?

A standard swing Jib as mentioned has two main parts - The Pillar and the Arm. The arm can rotate from left to right and vice versa, the swing or slew angle is set at 270° as standard. On all our swing jibs up to 1,000Kgs they will slew with ease without the requirements of powered assistance, hence keeping the costs down. If you do not require the full 270° we can fit slew limits to restrict what angle the Jib arm swings to
The arm on our Jib cranes is supplied ready to have a trolley and then hoist fitted to it, this trolley will move up and down the full length of the arm, giving you the reach and flexibility to reach into corners of your factory with ease.
What else is required for free standing Jib Crane
You now have your Swing Jib fitted. You now need a hoist, these fit easily via a trolley (push or powered trolleys are available). You just need to decide what hoist do you need and what style of trolley you require. To keep the costs down a manual hoist is the cheapest option, but you will not save on production time, as they are slow and do need the assistance by hand, and sometimes for larger items, you might not be able to reach. The second option and best option is an Electric Hoist, these hoists enable you to easily lift and lower your components quickly, cutting down on production time, it will soon pay for itself in time saved. Ultimate lifting solutions can supply various electrical hoists from all the top manufacturers such as Stahl, Yale, Demag, Liftket and Demag to name a few hoists we have supplied over the years
Installation
As mentioned above, the low height Jib Crane can be easy install, once the floor has been checked by a structural engineer, the jib crane location has been selected, the floor can be drilled ready for the floor bolts or anchorage studs to be installed. the column can be fitted in place over the floor anchors and then levelled and secured. the arm can be fitted into place and secured via the kingpin and lastly level the arm up. Once installed and the hoist fitted/installed, all that is left is commissioning, testing and signing off the Jib as safe to use. ULTIMATE LIFTING SOLUTIONS LTD can supply the jib only for all our customers to install themselves or find their own installation team. We are also more than happy to offer our own engineers to take away this task. We can install the Jib, install the Hoist, commission, test and we will not leave site until everything is working correctly and safely.
If you have any questions on Underbraced Jib Cranes, feel free to give us a call 01384 986 026 to discuss your requirements
All our manufactured underbraced swing jibs are
Duty classification: A3 according to BS 733 : 1990
All jibs are lubrication free. The pivot bushes are acetal and therefore do not require lubrication.
Manual slewing arm operation
Minimal maintenance requirement
Clutch controlled slewing mechanism, can be tightened/loosened to control how freely the arm pivots.
Bases are fully welded to the column – in most situations this removes the need for an oversized load spreading plate or setting an anchor frame into concrete, and therefore making installation much quicker and more cost effective.
Key Points of our UK manufactured Jib Cranes
SWL - 250kg,
Column Height - 2m up to 6m
Arm length - 2m up to 6m
Slew Angle - 270-degree manual slew
Fast delivery - We aim to delivery all our Swing Jibs within 3 weeks

Optional extras
Adjustable slewing limits, To reduce the swing arc
Slewing lock, to fix the arm in to a specific position
Electrical Isolator - required if electric hoist to be used in conjunction with hoist, can be fitted either flush mounted or face mounted on Pillar / column
Full Electric Kit - Our kit includes everything required to fun Electric Hoist (Isolator, Flatform Supply Cable, Cable Runners)
Optional Floor Fixing Bolts available on request. (If ULS are not installing - we do not supply floor anchors)
Under-braced Jib Cranes as a rule do not need much service or maintenance. Yet, general observations of the overall condition of the jib and the hoist connected to it can be carried out by the operator - any faults should be reported immediately
More importantly to keep the Jib and hoists running at maximum efficiency and to keep within the UK laws with regarding LOLER inspections set out by HSE, both the Jib and the hoist on it should have a maintenance service scheduled no later than 12 months. This service should be undertaken by qualified service engineers - If you would like to know more about the servicing and general maintenance, please feel free to contact us, we do have qualified engineers and are happy to quote for all your crane servicing requirements.
More products from category:
Lifting Equipment
View all
SUBSCRIBE FOR THE LATEST NEWS & SPECIAL OFFERS
Sign up here to get the latest news, updates and special offers delivered to your inbox.
Sign Up